Rail Kumbh Seva Mobile App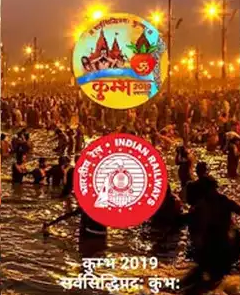 Rail Kumbh Seva Mobile App has been launched by the North Central Railway (NCR) to help the devotees arriving in Allahabad for the Kumbh Mela.
About the Mobile Application
The Mobile Application 'Rail Kumbh Seva Mobile App' has been designed to provide critical and valuable information to the devotees, tourists and other passengers who will visit Allahabad during the Kumbh Mela period. The app will assist the devotees in the following ways:
The app will assist to navigate through the city and the mela grounds.
The app will also provide information regarding all the 'Mela special' trains that will be run during the period.
The app will provide a link to the user to buy both unreserved and reserved train tickets.
The app will aid in knowing their current location and also aid in getting directions to reach railway stations, the mela zone, major hotels, bus stations and other facilities within Allahabad city.
The app will also provide information about passenger amenities available at the stations like parking lots, refreshment rooms, waiting rooms, book stall, food plaza, ATMs and train enquiry
Kumbh Mela at Allahabad
The Mythological story related to Kumbh is narrated below,
"During an ongoing war between the demons and the demigods for the possession of the elixir of immortality (Amruth), few drops fell to earth at four places: Allahabad, Haridwar, Nasik, and Ujjain. At each of the four places, Kumbh Mela is held. At Allahabad, the drop of Amruth is believed to be fallen near Sangam and people assemble near the Sangam during Kumbh Mela to purge themselves of all sins by taking a dip in the waters and attain Moksha (Salvation)."
The Kumbh Mela is held in these four places based on the astrological calculations it returns to each place after a gap of twelve years.
The normal Kumbh Mela is held every 3 years, the Ardh (half) Kumbh Mela is held every six years at Haridwar and Allahabad (Prayag) while the Purna (complete) Kumbh mela takes place every twelve years, at four places Prayag (Allahabad), Haridwar, Ujjain, and Nashik. The Maha Kumbh Mela is celebrated at Prayag after 144 years (i.e. after 12 'Purna Kumbh Melas').
Category: Art & Culture Current Affairs
Topics: Allahabad • Haridwar • Kumbh Mela • Nasik • North Central Railway • Rail Kumbh Seva Mobile App • Ujjain
Latest E-Books