Qingdao declaration: SCO summit adopts declaration calling for 3-year plan to combat terrorism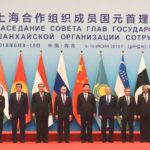 The 18th Shanghai Cooperation Organization (SCO) summit concluded with the adoption of the Qingdao declaration. It was adopted by leaders of China, Russia, Kazakhstan, Kyrgyzstan, Tajikistan, Uzbekistan, India (represented by Prime Minister Narendra Modi) and Pakistan. It was India and Pakistan's first summit as full members of SCO grouping.
Key Facts
The Qingdao declaration calls for implementing three-year plan to combat terrorism, separatism and extremism. It also calls for implementation of treaty on long-term good neighbourliness, friendship and co-operation. SCO participating leaders also adopted total of 17 documents at the summit, which particularly include documents endorsing 2018-2022 Action Plan to implement Treaty for Long-term Good-Neighborly Relations, Friendship and Cooperation between SCO states and 2019-2020 Program for Cooperation in countering terrorism, separatism and extremism. They also signed decision to approve 2018-2023 Anti-Drug Strategy and Action Plan to implement it. Besides, leaders of all SCO countries also signed an information statement.
India's Participation
India refused to endorse China's ambitious One Belt, One Road (OBOR) project as part of Qingdao Declaration at the 18th SCO summit. At the restricted session of the SCO Summit, Indian Prime Minister Modi floated concept of SECURE: 'S' for security for citizens, 'E' for economic development, 'C' for connectivity in the region, 'U' for unity, 'R' for respect of sovereignty and integrity, and 'E for environment protection.
Shanghai Cooperation Organization (SCO)
SCO is a Eurasian economic, political and security organisation headquartered in Beijing, China. The Declaration on establishment of SCO was singed in Shanghai (China) in June 2001 by six founding states – Russia, China, Kazakhstan, Kyrgyzstan, Tajikistan and Uzbekistan.
The groupings main objective is military cooperation between members. It also works towards intelligence-sharing, counter-terrorism operations in Central Asia. It is primarily centred on its member nations' Central Asian security-related concerns, often describing main threats it confronts as being terrorism, separatism and extremism.
The full members of the organization are China, Russia, Kazakhstan, Uzbekistan, Tajikistan, Kyrgyzstan, India and Pakistan. India and Pakistan were granted SCO membership in June 2017. Afghanistan, Belarus, Iran and Mongolia currently enjoy observer status of SCO. Sri Lanka, Turkey, Azerbaijan, Armenia, Cambodia and Nepal are dialogue partners of SCO.
Month: Current Affairs - June, 2018
Topics: International • International Organisations • Qingdao declaration • SCO • SECURE • Shanghai Cooperation Organization • Terrorism
Advertisement