Punjab Agricultural University develops genetically-modified cotton varieties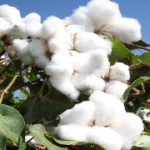 Punjab Agricultural University (PAU) in Ludhiana has claimed developing country's first genetically-modified (GM) varieties of cotton – PAU Bt 1 and F1861. Cotton is the only GM crop allowed to be cultivated in India.
The Indian Council of Agricultural Research (ICAR) also has identified three Bt cotton varieties –F1861, PAU Bt 1 and RS2013 for cultivation in Punjab, Haryana and Rajasthan.
Key Facts
The genetic modification of cotton involves introduction of the Bt bacterial gene that codes for a protein which kills the bollworm cotton pest.
All three varieties carry the Cry1Ac gene obtained from Bt (Bacillus thuringiensis) bacteria. It imparts resistance against bollworm cotton pest.
Besides, seeds of these three genetically-modified varieties can be reused by farmers with no commercial restrictions. It will aid in savings on repeat seed purchases every season.
The PAU Bt 1 variety was completely developed at PAU, whereas the F1861 and RS2013 were converted to Bt version by Central Institute for Cotton Research (CICR), Nagpur.
Month: Current Affairs - March, 2017
Topics: Agriculture • Bt cotton • Punjab Agricultural University • Science and Technology
Latest E-Books