President inaugurates 88th Mahamastakabhisheka at Shravanabelagola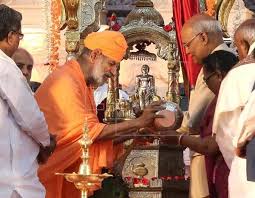 President Ram Nath Kovind inaugurated 88th Mahamastakabhisheka of Lord Gomateshwara by unveiling an idol of Bahubali at Shravanabelagola in Hassan district, Karnataka. President also lighted lamp to mark inauguration of the mega event which is held once in 12 years.
Mahamastakabhisheka
Mahamasthakabhisheka is the head anointing ceremony is performed once in 12 years of 57 feet tall monolithic statue of Lord Bahubali Gommateshwara at Shravanabelagola. It is one of biggest festivals for Jain community and it honors Lord Bahubali, a revered Jain icon. According to Jain texts, Bahubali had attained liberation from cycle of births and deaths (moksha) at Mount Kailash and is revered as a liberated soul (Siddha) by Jains.
Bahubali is also called Gommateshwara because of Gommateshwara statue dedicated to him and as lord Kammateswara from an inscription. Gommateshwara statue was built by Ganga dynasty minister and commander Chavundaraya in around 981 AD. It is a 57-foot monolith, making it one of largest free-standing statues in world.
Category: Art & Culture Current Affairs
Topics: Art and Culture • Lord Gomateshwara • Mahamastakabhisheka • Ram Nath Kovind • Shravanabelagola
Latest E-Books