President Donald Trump withdraws US from Iran nuclear deal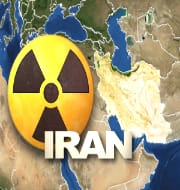 United States President Donald Trump unilaterally withdrew US from historic 2015 Iran nuclear deal or Joint Comprehensive Plan of Action (JCPOA) deal signed between Iran and P5+1 countries. It also reimposed sanctions on Iran that were lifted by the JCPOA. Trump administration cited that it cannot prevent Iran nuclear bomb and nuclear deal is defective at its core as it does not target Iran's ballistic missile programme, its nuclear activities beyond 2025, and its role in conflicts in Yemen and Syria. However other parties to the deal China, France, Russia, UK, Germany and European Union are still supporting it, thus avoiding entire collapse of JCPOA.
Joint Comprehensive Plan of Action (JCPOA)
It is informally called as 'Iran nuclear deal'. It is multilateral nuclear deal signed between Iran and P5+1 (five permanent members of United Nations Security Council- US, China, France, Russia, and UK), plus Germany and European Union (EU), in Vienna in July 2015.
The JCPOA is aimed at preventing Iran from building nuclear weapon, involved lifting of international sanctions in return for Tehran curbing its nuclear programme. This plan ensured that Iran will drastically reduce its uranium enriching capacity and levels, enriched stockpiles and centrifuges and will allow for stringent inspection and monitoring by international agencies including International International Atomic Energy Agency (IAEA).
In exchange for Iran compliance to deal, economic sanctions that had kept Iran away from international banking and the global oil trade were lifted It allowed Iran to make business deals and also unfroze billions of dollars Iran had overseas before multilateral sanctions were imposed on Iran over its nuclear programme.

India's Position
India has been extremely supportive of the Iran nuclear deal. It always maintained that Iranian nuclear issue should be resolved peacefully through dialogue and diplomacy by respecting Iran's right to peaceful uses of nuclear energy. It also held that all parties should engage constructively to address and resolve issues that have arisen with respect to JCPOA.
Impact on India
Indian interests in Afghanistan and West Asia are at stake after US pulling out of the JCPOA. It may have following impact
Energy trade: Iran is India's third biggest supplier (after Iraq and Saudi Arabia) of crude oil, and any increase in prices will hit both inflation levels and rupee. In February 2018, India had committed itself to increasing its oil imports from Iran, which were expected to double to about 3,96,000 bpd (barrels per day) in 2018-19 from about 2,05,000 bpd in 2017-18. Both countries have instituted several measures in the past few months.
Implications in West Asia: US unilateral move to target Iran and side with its regional rivals Saudi Arabia and Israel, could destabilise middle east (west asia) region where over 8 million Indian migrants live and work.
Chabahar port: India is aiming to develop Shahid Beheshti Port in Chabahar to circumvent Pakistan's blocks on trade with landlocked Afghanistan. India has already committed about $85 million with plans for total of $500 million for the port. New US sanctions may slow or even bring those plans to halt.
INSTC: India, a founder member of International North South Transport Corridor (INSTC) which starts from Iran and aims to cut right across Central Asia to Russia over a 7,200-km multi-mode network. Plans for INSTC gathered momentum after the JCPOA was signed in 2015 and sanctions on Iran were lifted. New US sanctions threatens strictures on countries doing military trade with US's "adversaries: Russia, North Korea and Iran.
SCO membership: India had joined Shanghai Cooperation Organisation (SCO) and Iran proposal for induction into eight-member Eurasian security organisation was on the lie. If the proposal is accepted, India will become a member of bloc that will be seen as anti-American.
Rules-based order: India has long been proponent of rules-based order that depends on multilateral consensus and adherence to commitments made by countries on the international stage. This rules-based multilateral order has been breached by Trump administration by walking out of JCPOA, as well as earlier from Paris Climate Change agreement. India will have to consider new understanding of its ties with US in this context for its interests.
Month: Current Affairs - May, 2018
Topics: Donald Trump • International • Iran nuclear deal • Iran-US • JCPOA
Latest E-Books