Prayagraj Kumbha Mela 2019 makes it to the Guinness World Records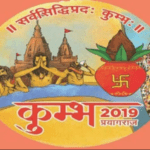 The Prayagraj Kumbh Mela 2019 has made into Guinness World Records in the following three sectors:
Largest traffic and crowd management plan.
Biggest painting exercise of public sites under paint my city scheme.
Biggest sanitation and waste disposal mechanism.
Kumbha Mela
Kumbh Mela, the festival of the sacred pitcher is the largest public gathering and collective act of faith, anywhere in the world. This Hindu pilgrimage Kumbh Mela is celebrated four times over a course of 12 years over four locations in India. The site of Kumbh Mela keeps rotating between one of the four pilgrimages on four sacred rivers as listed below:
Haridwar on the Ganges in Uttarakhand
Ujjain on the Shipra in Madhya Pradesh
Nashik on the Godavari in Maharashtra
Prayagraj at the confluence of the Ganges, the Yamuna, and the mythical Sarasvati in Uttar Pradesh.
The Kumbh Mela has been inscribed on the list of "Intangible Cultural Heritage of Humanity" by UNESCO in 2017.
Mythological Significance of Kumbh Mela
The origin of Kumbh Mela Can be traced to the works of the 8th-century philosopher Shankaracharya. The founding myth of the Kumbh Mela points out to the Puranas which recounts how Gods and demons fought over the sacred pitcher (Kumbh) of Amrit (nectar of immortality).
It is widely believed that Lord Vishnu disguised as the enchantress Mohini whisked the Kumbh out of the grasp of the demons who had tried to claim it. As he took it heavenwards, a few drops of the precious nectar fell on the four sacred sites of  Haridwar, Ujjain, Nashik and Prayag.
The flight and the following pursuit is said to have lasted twelve divine days which are equivalent to twelve human years. Therefore the Kumbh Mela is celebrated every twelve years staggered at each of the four sacred sites in this cycle.
Month: Current Affairs - March, 2019
Category: Art & Culture Current Affairs
Topics: Ganga • Godavari • Haridwar • Intangible Cultural Heritage of Humanity • Kumbha Mela • Madhya Pradesh • Maharashtra • Nashik • prayagraj • Prayagraj Kumbh Mela 2019 • Saraswati • Shankaracharya • Shipra • Ujjain • UNESCO • Uttar Pradesh • Uttarakhand • Yamuna
Latest E-Books