PM Narendra Modi presents 2014-15 Krishi Karman Awards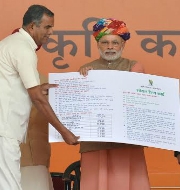 Prime Minister Narendra Modi had conferred 2014-15 Krishi Karman Awards to various states in a ceremony held at New Delhi.
The awards were presented in two different categories viz. Total foodgrain production and Individual Crops.
Winner of Krishi Karman Awards 2014-15
Total foodgrain production: Total 5 winning states were awarded in different categories. Each state was awarded a trophy, a citation and a monetary prize of 5 crore rupees. These states are
Madhya Pradesh: For production greater than 10 million tonnes in Category I States.
Himachal Pradesh and Odisha: For production between 1 and 10 million tonnes in Category II States.
Arunachal Pradesh and Meghalaya: For production less than 1 million tonnes in Category III States.
Individual Crops: Total 5 winning states were awarded a trophy, a citation and a monetary award of 2 crore rupees. These states are
Haryana, Assam: Rice.
Rajasthan: Wheat.
Chhattisgarh: Pulses.
West Bengal: Oil Seeds.
About Krishi Karman awards
Krishi Karman awards are given to Best performer States for raising country's food grain production.
These awards were instituted in 2010-11 for recognising the meritorious efforts of the states in foodgrains production.
It comprises of three awards for total food grain production and four awards for production of crops that constitute the food grain viz. rice, wheat, coarse cereals and pulses.
The main objective of these awards is to motivate and encourage states to enhance production and productivity of wheat, rice, pulses and coarse cereals and oilseeds.
Month: Current Affairs - March, 2016
Topics: Agriculture • Awards • Chhattisgarh • Narendra Modi • Odisha • States
Latest E-Books