Pinaka rockets manufactured by Economic Explosives Ltd (EEL) test fired at Pokhran
Published: August 22, 2020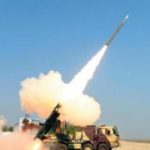 Pinaka Rockets, completely manufactured by a private sector organization named Economic Explosives Ltd, have completed its successful test firing operation at Pokhran.
Key Highlights
A total of six Pinaca rockets have been test-fired.
The rockets were manufactured by Economic Explosives Ltd (EEL) after a technology transfer agreement with DRDO.
It is for the first time in India's defence history, that any private organization manufactured rockets have been successfully test-fired.
To boost the Make in India initiative, and to attract more private players in the defence manufacturing sector, the technology transfer was done.
What is the Pinaka launching system?
Pinaka is a multi-barrel rocket launching system produced in India and developed DRDO which is already in operation in the Indian Army.
What is the Make in India initiative?
Make in India campaign was launched in 2014 by the Government of India, to attract foreign investment in a bid to industrialize India. Its main objective was to provide an impetus to the manufacturing sector of India.
DRDO
Defence Research and Development Organisation is an agency under the Ministry of Defence of the Government of India. It is associated with the military's research and development operation. It was formed in 1958 and headquartered in Delhi.
Category: Defence Current Affairs • India Current Affairs [National & States]
Topics: Defence Research and Development Organisation • DRDO • Make in India • Pinaka • Pinaka multi-barrel rocket launcher • Pokhran