WHO partners with IFBA to eliminate Trans Fat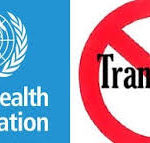 The World Health Organization (WHO) has partnered with International Food and Beverage Alliance (IFBA) to achieve its target under 'REPLACE Strategy' of eliminating Trans-fat from industrially produced global food supply by 2023.
Key Highlights:
As per WHO, Trans-fat (worst form of fat in food) is responsible for more than 5,00,000 deaths each year from coronary heart disease globally.
Therefore, eliminating Trans Fat from food supply by 2023, is one of the most effective and simplest ways to save lives and simultaneously creating a healthier food supply.
IFBA members ensured that they will not exceed trans-fat's industrial limit of 2 gram per 100 g fat/oil in their products globally by 2023.
About Trans Fat
It is also called trans fatty acids or trans-unsaturated fatty acids, are a type of unsaturated fat.
Types: two types of trans-fats found in foods, namely
Naturally-occurring: These are produced in gut of some animals. Animal foods (e.g., milk and meat products) may contain small quantities of these fats.
Artificial: These are created in industrial process by adding hydrogen to liquid vegetable oils to make them more solid. Food containing Trans-fat include margarine and ghee, snack, baked, fried foods etc.
It is widely used in Food Industry as they are easy to use, inexpensive to produce and last a long time.
Impact on health: They not only raises bad cholesterol (LDL) levels but also lowers good cholesterol (HDL) levels. Thus increases risk of developing coronary heart disease and stroke. It also make prone to higher risk of developing type 2 diabetes.
Recent Developments
In 2003 Denmark became first country to mandate restrictions on industrially-produced trans-fats in food products. It resulted in decline in deaths due to cardiovascular disease more quickly than in comparison to OECD countries. The move was then followed by some high-income countries.
In May 2018, WHO released 'REPLACE' strategy which provides six strategic actions to ensure the quick and complete elimination of industrially-produced trans fats from the food supply by 2023.
To ensure that benefits are felt equally around the world, action is needed in low and middle-income countries, where controls of use of industrially produced trans-fats are often weaker.
About REPLACE
It seeks to encourage complete and sustained elimination of industrially produced trans-fats from food supply by 2023.
REPLACE is an abbreviation for WHO's six strategic actions as:

Review (dietary sources of industrially-produced trans fats),
Promote (replacement of industrially-produced trans fats with healthier fats,
Legislate (enact regulatory actions to eliminate industrially-produced trans fats),
Assess (trans fats content in the food supply),
Create awareness (about negative health impact of trans fats) and
Enforce (compliance of policies and regulations).
Way Forward for India
On a global scale India has high number of coronary heart disease cases therefore it must try to beat this 2023 deadline and must try to achieve goal earlier.
Month: Current Affairs - May, 2019
Category: Science & Technology Current Affairs
Topics: Denmark • HDL • Health • IFBA • International Food and Beverage Alliance • LDL • OECD • REPLACE • REPLACE strategy • Trans fat • WHO • World Health Organization
Advertisement