Pakistan has no plans to grant MFN status to India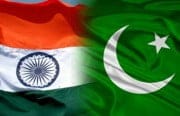 Pakistan Government has no immediate plans to grant Most Favoured Nation (MFN) status to India. However, it is working out free trade agreements (FTAs) with different countries, especially China and hopes to complete second FTA with China by June 2019. Pakistan has not reciprocated MFN status to India, reportedly citing "non-tariff barriers" erected by India as well as huge trade imbalance.
Pakistan maintains negative list of 1,209 items which are not permitted to be imported from India. But, it allows only 137 products to be exported from India through Wagah border land route. Bilateral trade between India and Pakistan stood at US $2.28 billion in 2016-17. India mainly exports cotton, dyes, chemicals, vegetables and iron and steel to Pakistan while it imports fruits, cement, leather, chemicals and spices.
Most Favoured Nation (MFN)
As per World Trade Organisation (WTO) rule, each of the WTO member countries should treat all tother members equally as 'most-favoured' trading partners.
Though MFN sounds like special treatment, in effect it means non-discrimination and tend to promote objective of free trade in general.
Under MFN status, WTO member country is obliged to treat other trading nations in non-discriminatory manner, especially with regard to customs duty and other levies.
India has already granted this status to all WTO members, including Pakistan (accorded in 1996), but Pakistan is yet to transition fully to MFN status for India.
Month: Current Affairs - November, 2018
Topics: India- Pakistan • International • Most favoured nation • Pakistan • Trade • WTO
Latest E-Books