Pakistan admits being added grey list of FATF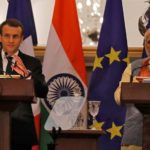 Pakistan has confirmed that it will be added on 'grey list' of the Financial Action Task Force (FATF) in June 2018, once an action plan is mutually negotiated. But it has disputed claims of being put on 'black list' from 'grey list', which are mainly non-cooperative countries. Earlier, Pakistan was on the FATF grey-list from 2012 to 2015.
Background
In February 2018 plenary session of FATF, US, UK, Germany and France had pushed for putting Pakistan on grey list for its ineffectiveness to deal Islamist terrorists especially Haqqani Network and its facilitators. FATF had decided to put Pakistan back on "grey list," subjecting it to direct monitoring and intense scrutiny by the International Co-operation Review Group (ICRG) on terror financing, pending further review in June 2018. The FATF decision was by consensus, after days of closed-door discussions within the 37-member group.
Impact of Grey-listing
It will endanger Pakistan's handful of remaining banking links to t outside world, causing real financial pain to the economy. It will squeeze Pakistan's economy and make it harder to meet its mounting foreign financing needs, including potential future borrowings from International Monetary Fund (IMF). It will lead to downgrading of Pakistan's debt ratings by international banking and credit rating agencies, making it more difficult to tap funds from international bond markets. It will also suspend international funds and aid to Pakistan such as Coalition Support Funds (CSF), money which US owes to Pakistan for military operations.
Financial Action Task Force (FATF)
FATF is an inter‐governmental policy making body that aims to establish international standards for combating money laundering and terrorist financing. It was established in 1989 during the G7 Summit in Paris (France) to combat the growing problem of money laundering.
It comprises over 39 member countries including India. FATF Secretariat is housed at the headquarters of the OECD in Paris. Initially, FATF was only dealing with developing policies to combat money laundering. But in 2001 its purpose was expanded to act against terrorism financing.
Mandate
FATF set standards and promote effective implementation of legal, regulatory and operational measures for combating money laundering, terrorist financing and other related threats to integrity of international financial system.
Functions
Set international standards to combat money laundering and terrorist financing.
Assess and monitor compliance with the FATF standards.
Conduct studies of money laundering and terrorist financing methods, trends and techniques.
Respond to new and emerging threats, such as proliferation financing used for promoting proliferation of nuclear, chemical and biological weapons.
Month: Current Affairs - March, 2018
Topics: Financial Action Task Force • International • Money Laundering • Pakistan • Terror Financing
Latest E-Books