Nepal to hold military exercise with China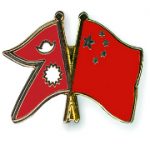 Nepal is set to hold its first ever joint military exercise with China. The military exercise, named Pratikar-1 will be held on February 10, 2017. This marks the beginning of a new level of military engagement between Nepal and China. The focus of the military exercise will be on training Nepali forces to deal with hostage scenarios involving international terror groups. Even though the bilateral military engagement does not violate India-Nepal treaty of peace and friendship (1950), the exercise does appear unconventional as Nepal has conducted exercises with India earlier. Nepal can have military exercises with other countries without violating the pact with India, but at the same time, military engagement with China is worrisome as China's definition of terrorism includes Tibetan agitators as well.
The 1950 India-Nepal Treaty of Peace and Friendship is a bilateral pact between the Government of Nepal and Government of India inked at Kathmandu on July 31, 1950. The treaty permits free movement of people and goods between the two countries and a close relationship and collaboration on matters of defence and foreign affairs. The treaty has 10 articles and envisages for eternal peace and friendship between the two nations.
Topics: Countries • Foreign relations of Nepal • Indo-Nepal Treaty of Peace and Friendship • Nepal • Politics by country • Politics of Nepal • Treaty of Peace and Friendship
Latest E-Books