Navika Sagar Parikrama: Indian Navy's all-women crew completes circumnavigating globe expedition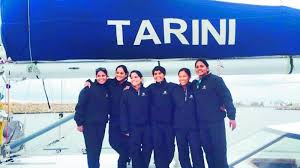 Indian Navy's six-member all-women Navy crew onboard of INSV Tarini vessel reached Panaji, Goa after circumnavigating around globe in 254 days under Navika Sagar Parikrama expedition. It was first-ever all women Asian and Indian circumnavigation expedition of globe . The expedition had started on September 10, 2017 in Goa was aimed at promoting women empowerment aligned with Government of India's thrust for 'Nari Shakti'.
Key Facts
Under this expedition, the crew covered 21,600 nautical miles in Indian-built sailing vessel INSV Tarini that visited five countries and crossed Equator twice. It sailed across four continents and three oceans and passed south of the Great Capes – Leeuwin, Horn and Good Hope. The expedition was completed in six legs, with five stopovers at Fremantle (Australia), Lyttleton (New Zealand), Port Stanley (Falkland Islands), Cape Town (South Africa) and Port Louis (Mauritius). The vessel was skippered by Lieutenant Commander Vartika Joshi, and other crew comprised of Lieutenant Commanders Pratibha Jamwal, P Swathi, and Lieutenants S Vijaya Devi, B Aishwarya and Payal Gupta.
Note: The expedition was originally scheduled to return in April 2018 after stopovers at four ports, but it was delayed after steering gear was damaged and was forced to take fifth, unscheduled stop at Port Louis for repair.
The voyage was undertaken in consonance with National policy to empower women to attain their full potential. It also aimed to showcase India's Nari Shakti on world platform and help revolutionize societal attitudes and mindset towards women by raising visibility of their participation in challenging environments.
The voyage was also aimed to show case 'Make in India' initiative by sailing onboard indigenously built INSV Tarini. It also encouraged use of environment friendly non-conventional renewable energy resources as ship harnesses wind, a renewable energy. It also collated and updated meteorological, ocean and wave data on regular basis for accurate weather forecast by India Meteorological Department (IMD) and also collected data for monitoring marine pollution on high seas.
INSV Tarini
INSV Tarini is 55 foot sailing vessel built indigenously in India by M/s Aquarius Shipyard Pvt Ltd, Goa. It was inducted into Indian Navy in February 2017. It carried suite of six sails, including main sail, head sails (Genoa and stay sails), downwind sails and storm sail.
The boat was named after famous 'Tara-Tarini' temple in Ganjam district of Odisha. The word 'Tarini' means boat and in Sanskrit it means saviour. Tara-Tarini is patron deity for sailors and merchants and is worshipped for safety and success at sea.
INSV Tarini had advance Raymarine navigation suite and array of satellite communication systems for perfect navigation anywhere in world. It is sister vessel of INSV Mhadei which was used by Captain (Retd) Dilip Donde to successfully undertake India's first solo circumnavigation (from August 19, 2009 to May 19, 2010). It was also later used by used by Lt Commander Abhilash Tomy for his own single-handed, unassisted, non-stop circumnavigation (from November 1, 2012 to March 31, 2013).

Month: Current Affairs - May, 2018
Category: Defence Current Affairs
Topics: Indian Navy • INSV Tarini • Navika Sagar Parikrama • Odisha • Women Empowerment
Latest E-Books