National Entrepreneurship Awards 2018 presented at New Delhi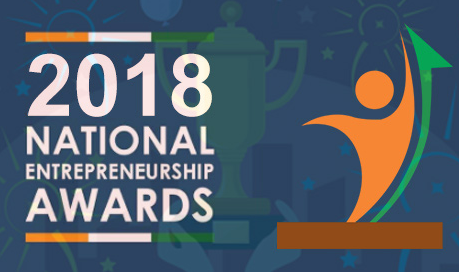 The Ministry of Skill Development and Entrepreneurship (MSDE) presented the National Entrepreneurship Awards 2018 by honouring 30 outstanding young entrepreneurs and three entrepreneurship ecosystem builders for their exceptional contribution in entrepreneurship development at a ceremony held in New Delhi.
Those honoured included:
Roshan Kahtoon, 23, from Bihar, who despite her physical disability, has beaten all odds and has set up a small bangle manufacturing unit.
Shruthi Reddy Sethi, 33, of Kolkata, who began Anthyesti Funeral Services to provide end-to-end funeral management service.
Tana Sumpaaged, 35, of the Nyishi tribe, Arunachal Pradesh, who is successfully running piggery farms and fisheries and helping local people, women, housewives and unemployed youth with quality training and livelihood support.
Mahipal Chary Kadivendi, 38, of Telangana, who has developed a self-propelled weeder-cum-cultivator that can be used for a number of agricultural processes such as hoeing, weeding, tilling, sowing and also for applying fertilizer or insecticides.
National Entrepreneurship Awards
The National Entrepreneurship Awards was instituted by the Ministry of Skill Development and Entrepreneurship in 2016 to encourage a culture of entrepreneurship across the country.
Each of the enterprise/individual winners receives a trophy, certificate and a cash prize of Rs 5 lakh, while each of the winning organizations/institutes receives a trophy, certificate and a cash prize of Rs 10 lakh.
Category: Awards, Persons & Places in News
Topics: Mahipal Chary Kadivendi • Ministry of Skill Development and Entrepreneurship • National Entrepreneurship Awards • Roshan Kahtoon • Shruthi Reddy Sethi • Tana Sumpaaged
Latest E-Books