NASA launches Next Generation Weather Satellite GOES-R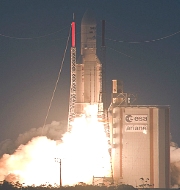 The NASA has successfully launched highly advanced geostationary weather satellite Geostationary Operational Environmental Satellite-R (GOES-R).
It was launched on board of Atlas 5 rocket which had lifted off from Cape Canaveral Air Force Station, Florida.
The satellite will boost the US's weather observation capabilities, leading to more accurate and timely forecasts, watches and warnings.
Key Facts
GOES-R is the first of four new advanced weather satellites of the GOES-R program managed by US's National Oceanic and Atmospheric Administration (NOAA).
It will become operational within a year after undergoing a testing and validation of its six new instruments, including the first operational lightning mapper in geostationary orbit.
The satellite's primary instrument Advanced Baseline Imager, will provide images of Earth's weather, oceans and environment with 16 different spectral bands.
GOES-R is also first satellite to carry a lightning mapper instrument to geostationary orbit. It will photograph lightning activity throughout Western Hemisphere about 200 times every second.
It will monitor the sun and relay crucial information to forecasters so they can issue space weather alerts and warnings.
In all, data from GOES-R will result in 34 new or improved meteorological, solar and space weather products.
It also will be part of the Search and Rescue Satellite Aided Tracking (SARSAT) System, an international satellite-based search and rescue network operated by NOAA.
Month: Current Affairs - November, 2016
Topics: International • NASA • Science and Technology • US • Weather forecasting
Latest E-Books