Naruhito becomes Japan's New Emperor marking beginning of Reiwa Era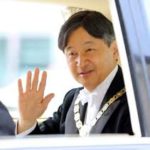 Naruhito became Japan's new Emperor after historic abdication of his father Akihito. Emperor Naruhito's ascending of Chrysanthemum Throne marked beginning of "Reiwa" era in Japan which takes effect from May 1, 2019.

Naruhito (59-year old) became Japan's new Emperor after historic abdication (first in more than 200 years) of his father Akihito.
He is nation's 126th emperor in world's oldest hereditary monarchy (from 5th century).
Akihito (now 85 years old), took throne in 1989. He devoted his career correcting for a war fought in his father's name. He even brought the aloof monarchy closer to people. He is first emperor in Japan's modern history whose era did not have a war.
Japan has witnessed a large amount of changes from 1989 (when it last ushered in new era). Its major recent concern is battling sluggish growth, chronically low inflation coupled with ageing population. With population in continuous decline, Japan will soon become world's first "ultra-aged" society, with 28% of people over 65 years of age.
 Reiwa
Stepping down of Emperor Akihito brings his "Heisei" era to an end and beginning of new "Reiwa" era with Naruhito's accession.
The term "Reiwa" means "Beautiful Harmony". It is derived from "Manyoshu", an anthology of Japanese poems dating back 1,200 years that symbolises Japan's profound public culture and long tradition.
It is the first time that the era name (also known as "gengo") has been taken from a Japanese document, and not from Chinese classics, which is a break from more than 1,300 years old practice.
In a highly digitalized and globalized society while most Japanese prefer Western calendar over Japanese system, the era name is still widely used in government and business documents. Most elders often use it to identify their generations.
Month: Current Affairs - May, 2019
Topics: Chrysanthemum Throne • Emperor Akihito • gengo • Heisei era • Japan • Monarchy • Naruhito • Reiwa Eera
Advertisement