Nanavati Commission submits final report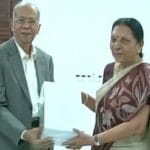 Justice Nanavati Commission has submitted its final report on the 2002 Gujarat riots to state chief minister Anandiben Patel. The final report of the commission on the 2002 riots, in which more than 1,000 people, mostly of minority community, were killed, comes after extensive investigation which ran over a period of more than 12 years and has more than 2,000 pages.
The commission members:
Retired d Supreme Court justice G T Nanavati and Retired High Court Justice Akshay Mehta.
In 2008, the inquiry panel had submitted one part of its finding with regard to the Godhra train burning incident.
In the part one report, the commission had concluded that the burning of S-6 coach of Sabarmati Express near Godhra railway station was a planned conspiracy.
Initially, the Terms of Reference (TOR) of the commission were to inquire into the facts, circumstances and course of events that led to the burning of the S-6 coach of Sabarmati Express.
About Nanavati Commission
On 3rd March 2002, Gujarat government under the Commission of Inquiry Act had constituted commission comprising of Justice K G Shah in the wake of the Godhra train carnage on February 27, 2002, and the subsequent communal riots across the state.
In May 2002, the state government appointed retired Supreme Court justice G T Nanavati as the chairman of the commission and the TOR were further amended in June 2002, as per which the panel was also asked to inquire the incidents of violence that took place after the Godhra incident.
In 2008, after the death of justice K G Shah, retd high court Justice Akshay Mehta was appointed to the panel. The commission was given 24 extensions of around six months each to complete its investigations.
The commission investigated roles of then Chief Minister Narendra Modi, as per the TOR, his Cabinet colleagues of that time, senior government and police officers along with functionaries of some right wing organisations during the period of 2002 riots.
Month: Current Affairs - November, 2014
Topics: committees and commissions • Current Affairs - 2017 • Gujarat
Latest E-Books