How Metro Policy 2017 can be made more effective?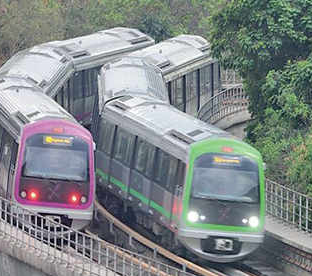 The Metro rail Policy 2017 was released by the central government to issue clear directives for undertaking Metro rail projects in various urban centres. The policy was a welcome change from the meandering development in the Metro rail sphere happening all over the country.
Components of the Metro Policy 2017
The Metro Policy 2017 laid out three significant conditions for catalyzing the development of Metro rail systems. They are:
It will be the responsibility of the state governments to explore and choose various options for urban mobility and then implement the project.
A comprehensive mobility plan (CMP) is a mandatory prerequisite for planning Metro rail in any city.
Constitution of a statutory body called the Unified Metropolitan Transport Authority (UMTA) for ensuring an integrated approach in planning and management of urban transport.
Making the Policy more Effective
Metro policy 2017 is a well-thought-out plan but it has left some gaps. The gaps lie in the details of the policy. The following amendments must be made to make the policy more effective:
The UMTA must be set up as a statutory body and must be adequately staffed.
CMP should be prepared and issued by the statutory body only, and no other agency.
For Metro services to be effective, it is important to the metro system with secondary and tertiary transport feeder services. Hence UMTA should ideally have powers to regulate fares for all urban transport units and prepare, monitor and audit the CMP.
It is a well-known fact that no Metro line anywhere in the world is financially remunerative. The Metro policy itself states that social and economic viability too must be assessed and be a part of the whole analysis. But it is necessary to bring clarity on how the viability gap will be bridged.
It must be made mandatory for states to put a fare fixation committee in place in accordance with the Metro Railways Act, 2002 to ensure the Metro fares do not become a pawn in a political slugfest.
India is witnessing a rapid pace of urbanisation. It has become important to introduce an efficient transport system. Hence it has become an urgent need for introducing these amendments to the policy to ensure that the Metro rail projects are finalized after a holistic assessment. This will ensure that projects run smoothly once they are put into operation.
Month: Current Affairs - January, 2019
Topics: CMP • comprehensive mobility plan • fare fixation committee • Metro Policy 2017 • Metro Railways Act 2002 • UMTA • Unified Metropolitan Transport Authority • viability gap funding
Latest E-Books