Measures for the protection of Sentinelese Tribe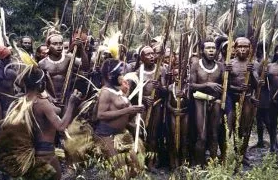 The Sentinelese Tribe are indigenous people inhabiting North Sentinel Island in the Bay of Bengal in India and are considered one of the world's last uncontacted peoples. They are considered as Particularly Vulnerable Tribal Group (PVTG).
Laws to Safeguard the interests of Sentinelese Tribe
Laws promulgated for the protection of interests of Sentinelese Tribe are:
A &N Islands (PAT) Regulation 1956.
Scheduled Castes and the Scheduled Tribes (Prevention of Atrocities) Act, 1989.
Restrictions under Foreigner (Restricted Area) Orders, 1963.
Visa Manual Conditions/Passport Act 1920.
Indian Forest Act, 1927.
Wildlife (Protection) Act, 1972.
Other Steps to safeguard their interests
The major steps taken towards protection of their interests include:
The entire North Sentinel Island along with 5 km coastal sea from high water mark is notified as a tribal reserve.
The Sentinelese are still in isolation practising primordial hunting and gathering way of life. The Government has adopted an 'eyes-on and hands-off' practice to protect and safeguard the Sentinelese tribe.
A protocol for the circumnavigation of the North Sentinel Island has been notified.  The ships and aircraft of Coast Guard and boats of Marine Police make sorties around North Sentinel to keep surveillance.
The coastal sea up to a fixed extent of 1 Km to 5 Km abutting the tribal territory has also been notified as a tribal reserve so that marine resources like fish, turtle etc are available exclusively for the Particularly Vulnerable Tribal Groups (PVTGs).
The Sentinelese tribe is at the verge of extinction. The 2011 census estimates their numbers at a mere 50.
Month: Current Affairs - February, 2019
Topics: A &N Islands (PAT) Regulation 1956 • eyes-on and hands-off • Indian Forest Act 1927 • Restrictions under Foreigner (Restricted Area) Orders 1963 • Scheduled Castes and the Scheduled Tribes (Prevention of Atrocities) Act 1989 • Sentinelese • Visa Manual Conditions/Passport Act 1920 • Wildlife Protection Act 1972
Latest E-Books