Martyrdom Day of Guru Tegh Bahadur observed in India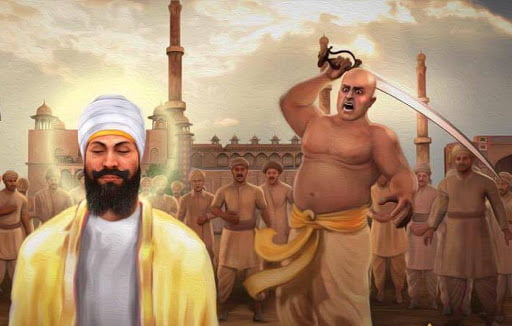 On November 24, 2020, the Martyrdom Day of Guru Tegh Bahadur was observed all over India. The day is being marked as the Guru sacrificed his life on November 24, 1675, to protect his human values, religion, ideals and principles. The day is also celebrated as Shaheedi Divas every year. He is called "Hind di Chaadar" with love and respect.
About Guru Tegh Bahadur
He was the ninth of the ten gurus of Sikhism. He was born in Amritsar in 1621. He was also the youngest son of Guru Hargobind. Around 150 hymns of Guru Tegh Bahadur has been included in Guru Granth Sahib.
Gurudwara Sis Ganj Sahib and Gurudwara Rakab Ganj Sahib mark the places of cremation and execution of his body.
Execution of Guru Tegh Bahadur by Aurangzeb
In 1675, Guru Tegh Bahadur was beheaded publicly in the Chandni Chowk market, a market square close to the Red fort. Guru Tegh Bahadur confronted the religious persecution of Kashmiri Brahmins by the Mughal officials. He was arrested and was forced to convert to Islam. Upon refusing, the Guru was executed under the orders of the then Mughal ruler Aurangzeb on November 24, 1675.
About Guru Granth Sahib
It is a religious scripture of Sikhism. Earlier it was called the Adi Granth. It was compiled by the fifth guru of Sikhism Guru Arjan. Later, the tenth Guru of Sikhism, Guru Gobind Singh added hymns of Guru Tegh Bahadur. This edition came to be known as Guru Granth Sahib. The book contains teachings of Hindu Bhakti movement poets as well.
Sikhism
Guru Nanak was the founder of Sikhism. The religious practices of Sikhism was formalised by Guru Gobind Singh. The Sikhs entered into conflicts with the Mughal from the rule of Jahangir. Mughal rulers killed several prominent Sikhs for not obeying the orders. Of all the Sikh gurus and leaders, Guru Tegh Bahadur and Guru Arjan Dev were the most tortured.
Month: Current Affairs - November, 2020
Category: Important Days & Events Current Affairs
Topics: Guru Gobind Singh • Guru Granth Sahib • Guru Teg Bahadur • Guru Tegh Bahadur • Sikh • Sikhism
Latest E-Books