Martian crater named after Nepal quake-hit village Langtang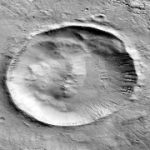 The International Astronomical Union (IAU) has named a crater on Mars as Langtang after one of the villages most affected by the devastating 2015 earthquakes in Nepal.
The Langtang crater on Mars is 9.8 kilometers wide and has scientific importance. The marks on the top of the crater wall probably show the flow of water and below it are ridges which are the remains of former Martian glaciers.
The crater was named by researcher Tjalling de Haas to pay tribute to the Nepali village. He chose this name because his colleague had worked in this village while studying Himalayan glaciers.
Langtang village was a popular trekking site and was completely destroyed by an avalanche triggered by April 2016 devastating earthquake.
About International Astronomical Union (IAU)
IAU is a collection of professional astronomers, at the PhD level and beyond, active in professional education and research in astronomy.
Founded: 1919.
Headquarters: Paris, France
Objective: Promote and safeguard the science of astronomy in all its aspects through international cooperation.
It is an internationally recognized authority for assigning designations (names) to celestial bodies (stars, planets, asteroids, etc.) and any surface features on them.
Month: Current Affairs - June, 2016
Topics: IAU • Langtang • Mars • Nepal • Places in News • Science and Technology
Latest E-Books