Manipur Government reaches agreement with JCILPS on ILP System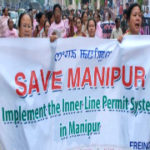 Manipur Government has reached an agreement with the Joint Committee on the Inner Line Permit System (JCILPS) over the issue of implementation of Inner Line Permit (ILP) system.
It was reached after a marathon talk between the state government and the delegation of JCILPS led by its Convenor in-Charge Khomdram Ratan.
This agreement seeks to safeguard the rights of indigenous people of Manipur insertion of five major points in the proposed Draft Bill in this regard.
It should be noted that JCILPS is spearheading the movement for implementation of IPL system in this north eastern state.
What is Inner Line Permit (ILP) system?
The Inner Line Permit system (ILP) is a special pass or permit or quasi visa that is required by Indian citizens to enter protected/restricted area of state for a limited period.
Origin: It was introduced by then British India government to protect indigenous tribal people from encroachment into their areas by outsiders. Later, they used it as an instrument to advance the commercial interest.
In this case, protected area/restricted area under ILP regime is notified by Union Government and ILP is issued by state governments under the Bengal Eastern Frontier Regulation, 1873.
This permit or quasi visa regime is presently operational in three northeastern states viz.

Arunachal Pradesh, Nagaland and Mizoram

.
Why there is demand to implement ILP System in Manipur?
There is long-standing demand of implementing ILP system in Manipur over the issue of son of the soil among the dominant ethnic Meiteis group.
There is fear among dominant ethnic group that they may become minority in state due to influx of outsiders especially migrants and also they might lose their ancestral land to these migrants.
As per 2001 census, the population size of migrants in the state is nearly equal to the population of dominant ethnic Meiteis group.
Month: Current Affairs - August, 2015
Topics: Current Affairs 2016 • Inner Line Permit • Manipur
Latest E-Books