Maithripala Sirisena sworn-in as 7th President of Sri Lanka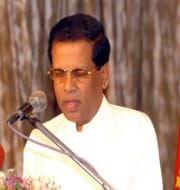 Maithiripala Sirisena has sworn-in as 7th President of Sri Lanka.
Sri Lanka's Supreme Court Judge K. Sri Pawan administered the oath of office to Maithiripala Sirisena at a oath taking function held at the Independence Square in Colombo.
While, United National Party (UNP) leader Ranil Wickramasinghe was sworn-in as Sri Lanka's Prime Minister.
Election verdict: Maithiripala Sirisena was declared elected in Presidential elections after he had defeated incumbent President Mahinda Rajapaksa by more than 4 and a half lakh votes. In this election he had secured 51.28 per cent of total votes casted.
Summary on Sri Lanka's 2015 Presidential Election
After the result was declared, incumbent President Mahinda Rajapaksa had conceded defeat. It should be noted that for the first time in Sri Lanka, an incumbent President was defeated.
Mahinda Rajapaksa was President for one decade and had played important role to end LTTE militancy in 2009.
He also played important in huge development projects in the island nation, but failed to address the political aspirations of the minority Tamil community, protect the Muslims from Buddhist hardliners and secure a better economic deal for the poor.
Maithiripala Sirisena was Health Minister Rajapaksa's government. But after Presidential were declared in November 2014 he opposed Mahinda Rajapaksa by contesting the elections.
In this Presidential election, Maithiripala Sirisena got huge support of rainbow coalition of several parties and minority communities as he had promised constitutional, electoral and administrative reforms within a hundred days of coming to power.
He also had promised to abolish Executive Presidency in Sri Lanka and hand over political power to the Prime Minister and the Parliament.
Maithripala Sirisena
He was born on 3 September 1951 and is son of a World War II veteran.
Political career: He had joined mainstream politics in 1989 through the Sri Lankan Freedom Party. He was first elected to Sri Lankan Parliament in 1989. He has held several ministries in Chandrika Bandaranaike Kumaratunga government. He was Minister of Agriculture in the first Rajapakas government elected in 2005. He was reelected in 2010 and appointed Minister of Health.
In 1971, he was arrested on suspicion of leading a revolt against the government and was in jail for almost two years.
Related Posts
Month: Current Affairs - January, 2015
Topics: Current Affairs 2016 • Maithiripala Sirisena • Sri lanka
Latest E-Books