Maharashtra: Governor promulgates Ordinance for Medical Admission Reservation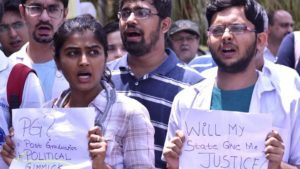 Maharashtra Governor V. Rao has promulgated an ordinance to provide reservation benefits in admissions to Social and Educationally Backward Classes (SEBCs) in medical education in state.
Key Points of Ordinance
Reason: In May 2019 the Nagpur bench of Bombay High Court has put a stay on the 16% quota offered by state to its Maratha community under SEBC category for admission in 2019's postgraduate medical courses. The HC ruled that implementation of this reservation for Maratha community under SEBC quota was "unconstitutional" and thus will not be applicable to post-graduate medical admission process which had already begun. This cancelled admissions already given to students under Maratha quota and necessitated fresh admissions.
Thus the Maharashtra State Reservation for SEBC Amendment and Validation Ordinance, 2019, makes way for 16% reservation for students from Maratha community in current academic year itself. It provides reservation of seats for admission in educational institutions of state and appointments in public posts and services under state.
The ordinance promulgated thus upholds admissions given to students under Maratha quota under SEBC category in postgraduate medical and dental courses.
Courses: The reservation to students will be provided in admissions in field of medical education which includes medical and dental under-graduate and post graduate courses under SEBC category.
Covers: The ordinance will provide reservations in favour of candidates belonging to SEBC classes for courses commencing from educational year 2019-20. It will also be applicable for admissions to other educational courses including under-graduate courses requiring passing of NEET or any other National Entrance Test.
Article 213: The Governor of an Indian state draws ordinance making power from Article 213 of Indian Constitution. This article empowers governor to promulgate ordinance on an urgent matter and such ordinance shall have same force and effect as an Act of Legislature of the State.
Month: Current Affairs - May, 2019
Topics: Article 213 • Bombay High Court • Indian Constitution • Maharashtra Governor • Maharashtra State Reservation for SEBC Amendment and Validation Ordinance 2019 • Maratha Quota • Medical Admission Reservation • NEET • Ordinance • Ordinance promulgation • SEBC
Latest E-Books