Mahadayi Water Disputes Tribunal: 13.42 TMC water to allocated to Karnataka, 24 TMC to Goa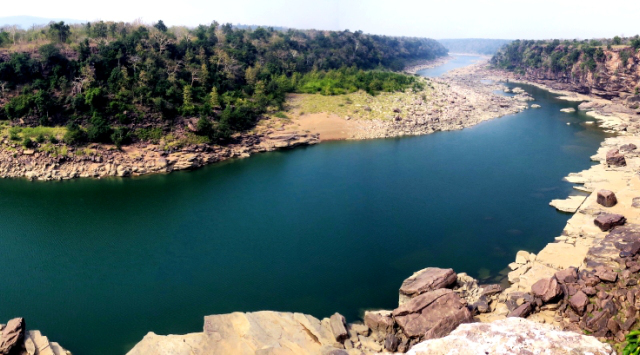 Mahadayi Water Disputes Tribunal delivered its final verdict to ending 50-year-old dispute over sharing of Mahadayi or Mandovi River between Goa, Karnataka and Maharashtra. The tribunal was constituted in November 2010 under Interstate River Water Disputes Act, 1956 to resolve water sharing dispute between riparian states.
Mahadayi River
Mahadayi River (also spelt Mahadeyi or Mhadei, and called Mandovi in Goa) rises in Bhimgad Wildlife Sanctuary in Western Ghats, in Khanapur taluk of Belagavi district in Karnataka. It flows in westerly direction, entering Goa in Sattari taluk of North Goa district. It is joined by number of streams along it course, growing in volume to become Mandovi (one of Goa's two major rivers), before emptying itself into Arabian Sea at Panaji. About two-thirds (76 km) of Mahadayi's 111-km stretch lies in Goa and remaining 35 km is in Karnataka and Maharashtra. Mahadayi river basin drains area of 2032 square km  of which 375 sq km lies in Karnataka, 77 sq km in Maharashtra and remaining in Goa. Mahadayi River is lifeline of Goa because it is one of few sweet-water sources at state's disposal (most of Goa's 11 rivers contain salt water). It also important for Goa's water security, ecology, and is important source of its staple diet of fish.

Dispute
The sharing of waters of Mahadayi River was major cause of dispute between Karnataka and Goa. Karnataka was proposing to divert excess water from Mahadayi river to Malaprabha river basin by constructing number of dams, canals and barrages to route Mahadayi river water as part of Kalasa-Banduri Nala project.
It had citied that, diversion of surplus water from Mahadayi which drains into Arabian sea (approximately 188 tmcft of water at 75% dependability flows into the Arabian Sea now without being used for anything) to meet requirements of water-scarce districts of Bagalkot, Gadag, Dharwad and Belagavi.
Goa had opposed Karnataka's proposal, contending that its population is dependent on river's natural path and its diversion will affect its fragile ecosystem. It also claimed that ingress of saltwater in river, which is dependent on monsoons, will ultimately end up killing state's mangroves and green belt, disturb relationship between its people and land as well as ecological balance.
Tribunal Award
The tribunal has pegged Karnataka's access to 13.4 tmc of Mahadayi River water for its consumptive use (5.4 tmc) and power generation (8.02 tmc). Goa was allowed to use 24 tmc for state's municipal water needs, irrigation water requirements and industrial water demands. Maharashtra was awarded lowest share of 1.33 tmc for meeting its in-basin needs with respect to five projects. It also directed Central Government to set up Mahadayi Water Management Authority to implement its report and final decision.
Month: Current Affairs - August, 2018
Latest E-Books