Lalji Singh: Father of DNA fingerprinting in India passes away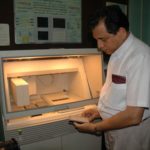 Eminent scientist and father of DNA fingerprinting in India Lalji Singh passed away following heart attack. He was 70. He was one of the leaders instrumental in making DNA fingerprinting mainstream in India, both at level of research as well as for forensic applications.
Contributions of Lalji Singh
He also set up a slew of dedicated labs that worked on several aspects of genetics such as population biology, structural biology and transgenic research. His work in field of DNA fingerprinting technology also contributed for sex determination, Wildlife conservation forensics and evolution and migration of humans.
Based on his work he was tasked by government to establish Centre for DNA Fingerprinting and Diagnostics (CDFD) in late 1990s with mandate of making it a nodal centre for DNA fingerprinting and diagnostics for all species and several diseases.He also had founded Laboratory for Conservation of Endangered Species (LaCONES).
Lalji Singh
Dr. Singh served as a director at the Centre for Cellular and Molecular Biology (CCMB) in Hyderabad from 1998 to 2009. He also had served as Vice Chancellor of the Banaras Hindu University (2001 – 2014), his alma mater.
Until recently, he was active in the Genome Foundation, a non-profit organisation that aims to diagnose and treat genetic disorders affecting the underprivileged, especially from rural India. He was awarded prestigious Padma Shri award.
Month: Current Affairs - December, 2017
Category: Awards, Persons & Places in News
Topics: DNA fingerprinting • Obituary • Persons in News • Science and Technology
Advertisement