KV Thomas renominated as Chairman of Public Accounts Committee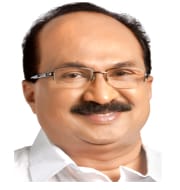 Lok Sabha Speaker Sumitra Mahajan has renominated Prof. Kuruppassery Varkey Thomas as Chairman of Public Accounts Committee (PAC) for a second term of one year.
For the first term, Thomas was nominated in August 2014. He is the senior Congress Parliamentarian from Ernakulum Constituency, Kerala.
About Public Accounts Commission (PAC)
PAC is one of the most important finance committees in the Parliament along with the Committee on Estimates and the Committee on Public Undertakings.
It is constituted every year and consists of 22 members – 15 from Lok Sabha and 7 from Rajya Sabha.
The members from Lok Sabha are elected from amongst its members according to the principle of proportional representation by means of single transferable vote. Members from Rajya Sabha elected by that House in like manner are associated with the Committee.
Speaker usually appoints the Chairman of the PAC. It should be noted that a minister cannot be elected to as member of Committee.
It should be noted that since 1967, Chairman of PAC is senior member of the main Opposition party.
Function of PAC: The key function of PAC is to examine annual audit reports of Comptroller and Auditor General (CAG) after they are tabled in Parliament by President.
Prior to KV Thomas, senor BJP leader Murli Manohar Joshi was chairman of PAC for four consecutive years during 15th Lok Sabha (2009-2014).
Note- CAG usually submits 3 audit reports. They are audit report on appropriation accounts, audit report on finance account and audit report on public undertakings.
For additional information about PAC- Click here
Month: Current Affairs - May, 2015
Topics: CAG • Congress • Current Affairs - 2017 • Current Affairs 2016 • Lok Sabha • PAC • Parliament • Rajya Sabha
Latest E-Books