Kerala's Nilambur teak to get GI tag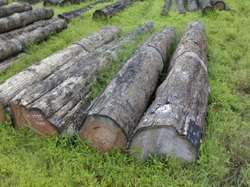 Kerala's Nilambur teak known internationally for its superior timber quality and elegant appearance will be added to the list of Kerala produces with the Geographical Indication (GI) tag.
In this regard, IPR Cell of the Kerala Agricultural University (KAU) with the support of the Nilambur Teak Heritage Society, the Kerala Forest Research Institute (KFRI) and the Department of Forests have applied for GI tag.
Key Facts
Britishers were first to identify the superior and unique quality of teak from Kerala's Nilambur plantations and forests. Later, the region became the major supplier of quality teak in the world.
Nilambur was christened the Mecca of Teak. Due to its superior mechanical and physical properties as well as aesthetic appearance, the teak was exported to England and other parts of the world.
However, as the fame of Nilambur teak increased, fake products with false tags also started flooding the wood and furniture markets.
Produces from Kerala with GI tag: Pokkali rice, Vazhakulam Pineapple, Tirur Betel vine, Wayanadan rice varieties Jeerakasala and Gandhakasala, Central Travancore Jaggery and Chengalikodan Nendran, a banana variety.
About Geographical Indication (GI)
GI tag is an insignia on products having a unique geographical origin and evolution over centuries with regards to its special quality or reputation attributes.
The status to the products marks its authenticity and ensures that registered authorised users are allowed to use the popular product name.
Benefits of GI Status (i) Legal protection to the products (ii) Prevents unauthorised use of a GI tag products by others (iii) Helps consumers to get quality products of desired traits (iv) Promotes economic prosperity of producers of GI tag goods by enhancing their demand in national and international markets.
Legal Authorities associated with GI: It is covered as an element of intellectual property rights (IPRs) under the Paris Convention for the Protection of Industrial Property.
At international level, GI is governed by World Trade Organisation's (WTO's) Agreement on Trade-Related Aspects of Intellectual Property Rights (TRIPS).
In India, GI registration is governed by the Geographical Indications of goods (Registration and Protection) Act, 1999 which came into force in September 2003. Darjeeling tea was the first product to accorded with GI tag in India.
Month: Current Affairs - February, 2017
Topics: Geographical indication • IPR • Kerala • National • Nilambur teak
Latest E-Books