Justice Mukul Mudgal to head Selection Committee to pick up Dronacharya and Dhyanchand Awardees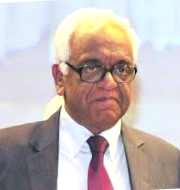 Justice Mukul Mudgal was named Chairman of 11-member selection committee to pick this year's Dronacharya and Dhyanchand awardees given as part of National Sports Awards ceremony. These awards will be presented at National Sports Awards ceremony scheduled to be held on September 25, 201.
Dhyanchand award is bestowed on sportspersons for their lifetime achievements and contribution to sport during both their active career and after retirement. Dronacharya award is presented to coaches for their outstanding and meritorious work on consistent basis over period of four years.
Other members of selection committee are: former Commonwealth Games gold medalist Samresh Jung, Indian badminton ace Ashwini Ponnappa, former national boxing coach G S Sandhu, hockey coach AK Bansal and archery coach Sanjeeva Singh apart from Sports Authority of India's (SAI) Special Director General Onkar Kedia, Joint Secretary (Sports) Inder Dhamija, two sports journalists and Target Olympic Podium Scheme CEO Commander Rajesh Rajagopalan.
Background
National Sports Awards ceremony is held every year on August 29 to commemorate the birth anniversary of hockey legend Major Dhyan Chand. But this year it will be organised on September 25, 2018. The change of schedule was done because of clash of dates with 2018 Asian Games, which concluded on September 2, 2018 in Jakarta, Indonesia.
Justice Mukul Mudgal
Justice Mudgal is retired Chief Justice of Punjab and Haryana High Court. Previously he was appointed by Supreme Court to probe into 2013 IPL spot-fixing scandal, involving three players from Rajasthan Royals. Currently, he is deputy chairman of FIFA Governance Committee and Review Committee. Mukul Mudgal, is also popular name among cricketing circles, as he is regarded as pioneer behind reviving Test cricket in India. He also had devised new procedures on how to get crowds into cricket stadiums.
Category: Awards, Persons & Places in News • Persons in News
Topics: Awards • Dhyanchand Award • Dronacharya Award • Justice Mukul Mudgal • Persons in News • Selection Committee • Sports
Latest E-Books