Japanese scientists detect rare deep-Earth tremor S wave microseism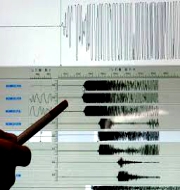 Scientists in Japan studying earthquakes for the first time have detected a rare deep-Earth tremor, known as an S (secondary) wave microseism. Microseisms are very faint tremors.
The detection was made by scientists from the National Research Institute for Earth Science and Disaster Prevention in Japan.
Key Facts
The rare deep-Earth tremor S wave microseism was detected for the first time and traced its location to a distant and powerful storm.
The storm in the North Atlantic known as a weather bomb which was a small but potent storm that gains punch as pressure quickly mounts.
During the storm, groups of waves had sloshed and pounded the ocean floor which struck between Greenland and Iceland.
Using seismic equipment on land and on the seafloor researchers found a tremor known as an S wave microseism.
S wave Microseisms are very faint tremors compared to P (primary) wave microseisms and they occur in the 0.05 to 0.5 Hz frequency range.
P wave microseisms can be detected easily during major hurricanes. They are fast-moving waves and can travel through gaseous, liquid and solid materials.
But the elusive S waves are slower and move only through solid rock, not liquid. Humans feel them during earthquakes.
Significance of Discovery: It will help experts learn more about the Earth's inner structure and improve detection of earthquakes and oceanic storms.
Learning more about S waves microseismic will further aid to understand the deeper crust and upper mantle structure.
Month: Current Affairs - August, 2016
Topics: Earthquake • International • S wave microseism • Science and Technology
Latest E-Books