Japan names new imperial era as Reiwa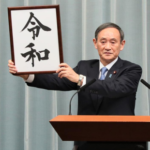 Japan has revealed the name of the era which will define the new emperor's reign when he ascends the Chrysanthemum Throne next month following a historic abdication. The era has been named as 'Reiwa'.
Reiwa
"Reiwa" consists of two characters: "Rei", which can have meanings related to "order" but also "auspicious" and "Wa", usually translated as "peace" or "harmony".
Japan is still using imperial calendars for private and public documents as well as computer records.
Hence the new era has a huge impact on daily life and people tend to recall major events in public and private life by when they fell in a certain era
2019 was known as Heisei 31, or the 31st year of current Emperor Akihito's rule.
The name for the new imperial era, Reiwa was taken for the first time from an ancient Japanese book instead of from Chinese classics.
The era of "Reiwa" begins on May 1, a day after 85-year-old Emperor Akihito abdicates and hands over the Chrysanthemum throne to his eldest son. Crown Prince Naruhito.
Month: Current Affairs - April, 2019
Topics: Chrysanthemum Throne • Heisei • Imperial Era • Japan • Reiwa
Latest E-Books