Japan adopts economic plan to allow more foreign workers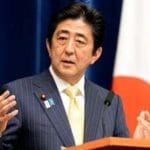 Japan's Cabinet has adopted an economic plan that will allow more foreign workers to work in the country. This proposal will help rapidly aging country to make up for its declining workforce. In recent times, number of foreign workers in Japan has nearly doubled to 1.28 million.
Key Facts
Under the plan, Japan will relax visa requirements in sectors facing severe labour shortages such as agriculture, nursing care, construction and transport. Highly skilled professionals will be allowed in new categories of this visa regime. It will create new five-year visa category for non-professional foreign workers.
The non-professional foreign workers will be allowed to stay in Japan for only up to five years as visitors, not as immigrants. They will be not allowed to be accompanied by family members. Applicants for new visa status will need to pass certain skill tests and have some degree of Japanese language proficiency in order to receive new five-year visas. The plan is not scheme to acquire cheap labour or change to Japan's immigration policy.
Month: Current Affairs - June, 2018
Topics: Foreign Workers • International • Japan • Shinzo abe
Advertisement