Jan Soochna Portal Launched in Rajasthan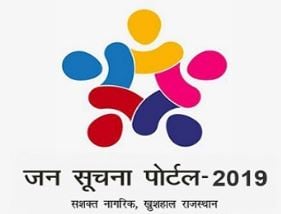 The government of Rajasthan has launched the Jan Soochna Portal to enhance transparency and accountability and empower the right of the people to seek information. The portal is developed under the RAJasthan Innovation Vision (RAJIV).
Jan Soochna Portal
The portal creates a streamlined system for public information to prevent anomalies and corruption.
The portal provides information about government schemes on one website and proves beneficial to the public by obviating the need to go through a tedious RTI application process to know more.
In the coming days, the government is also aiming to develop a mobile app and install self-service portals in villages so that people can access the Jan Soochna Portal easily and get the information they require.
The portal has been developed by the Information Technology (IT) department of Rajasthan. In the first phase information related to 13 departments would be provided through the portal which includes:
Primary and secondary education (information on Shala Darpan Shala Darshan);
Social justice and empowerment department (information on special schemes, Palanhar and its beneficiaries and information on beneficiaries of the social security pension scheme);
Labour and employment department (information on labour card holders);
Mining department (clearance report DMFT);
Planning, IT and communications department (information on State Resident Data
Repository cardholders, E-Mitra kiosks);
Revenue department (land records); tribal area development department (Forest Rights Act, Community Forest Rights);
Energy department (information on consumers, status of applications).
MGNREGA workers, ODF beneficiaries, development works under Panchayati raj institutions);
health and family welfare department (information on CM free medicines and treatment scheme, on the beneficiaries of Ayushmaan Bharat-Rajasthan Swasthya Bima Yojana);
Administrative Reforms Department (RTI);
Food and Civil Supplies department (information on
beneficiaries of national food security Act, ration card holders, fair price shops);
Cooperative department (information on
Beneficiaries of the loan waiver scheme, disbursal of short-term crop loans and purchase of pulses and oilseeds at minimum support price).
Strengthening RTI
The portal is aimed at strengthening the true intent behind Section 4(2) of the Right to Information Act of 2005. The section provides for public authorities to proactively (suo moto) disclose information so that beneficiaries do not have to run from pillar to post trying to figure out what went wrong and how to set it right.
Category: Government Schemes Current Affairs
Topics: Freedom of information laws by country • Government of Rajasthan • India • Indian labour law • National Rural Employment Guarantee Act • Ration card • Right to Information Act • Right to work
Latest E-Books