ISRO sets record by successfully launching 20 satellites in single mission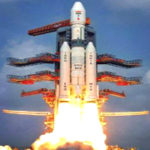 The Indian Space Research Organisation (ISRO) successfully launched a record 20 satellites in a single mission from Satish Dhawan Space Centre in Sriharikota.
These satellites including India's latest earth observation satellite Cartosat-2 were launched using Polar Satellite Launch Vehicle (PSLV) C-34.
With this successful launch, ISRO surpassed its previous record of placing 10 satellites into orbit in a single mission in 2008.
Key facts
The primary satellite in this mission was India's latest earth observation satellite Cartosat-2. It was PSLV's 35th continuous successful launch of its total 36th flight.
Other 19 satellites were from countries US (13), Canada (2), Germany (1) and Indonesia (1). It also had two satellites from Chennai's Sathyabama University and College of Engineering, Pune (COEP).
Cartosat-2
Cartosat-2 satellite is similar to the earlier Cartosat-2, 2A and 2B. It will be placed a 505 km polar Sun Synchronous Orbit (SSO)
It will be used for detailed mapping and other cartographic applications as well as applications in Land Information System (LIS) and Geographical Information System (GIS).
The images sent by Cartosat-2 will be used for drawing maps, urban and rural applications, coastal land use and regulation, road network monitoring and water distribution.
Other satellites launched
LAPAN A3: It is Indonesian micro-satellite which will be used for earth's magnetic field monitoring and surveillance purpose.
BIROS: It is German satellite to be used for remote sensing of high temperature events.
SKYSAT GEN 2-1: The micro-satellite developed by Google's subsidiary company Terra Bella's. It will be used for earth imaging.
12 Flock-2P Earth imaging satellites: These are earth imaging satellites from United States.
M3MSAT (Maritime Monitoring and Messaging Microsatellite): It is Canadian micro-satellite that will be used for study and collection of automatic identification system signals from low earth orbit.
GHGSat-D: It is Canadian earth observation satellite. It will be used for measuring the atmospheric concentration of greenhouse gases (GHGs) especially Carbon Dioxide (CO2) and Methane (CH4).
Sathyabamasat: The satellite has been designed and built by Chennai based Sathyabama University. The satellite aims to collect data on greenhouse gases (GHGs).
Swayam: It has been designed and built by College of Engineering, Pune (COEP). It will be used to provide point to point messaging services to the HAM (amateur radio) community.
Comment
The mission was historic double record for the ISRO's workhorse PSLV C34. It has inserted a record number of 20 satellites into space and also has proved to be reliable for double ignition while in space to take multiple satellites into different orbital heights in a single mission.  Thus, PSLV in its category proves to be one of the most sophisticated and highly versatile launch vehicles in the world in its class.
Month: Current Affairs - June, 2016
Topics: Cartosat-2 • ISRO • PSLV-C34 • Space technology
Latest E-Books