ISRO conducts successful test launch of scramjet engine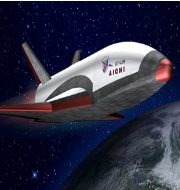 The Indian Space Research Organization (ISRO) for the first time has successfully conducted the Scramjet (or Supersonic Combusting ramjet) engine test.
The test was conducted from Satish Dhawan Space Centre, Sriharikotta in Andhra Pradesh and has successfully has met all the intended parameters.
Key facts
The scramjet engine was test launched on board of RH 560 sounding rocket.
RH 560 sounding rocket is two stage Advanced Technology Vehicle (ATV).
The ATV along with the scramjet engines weighed 3,277 kg at lift-off.
During the test, ATV was able to fly at Mach 6 (six times the speed of sound) speeds.
The scramjet uses hydrogen as fuel and oxygen from the atmospheric air as the oxidiser.
During the test, Air Breathing Propulsion System (ABPS) using hydrogen as fuel and oxygen from the atmosphere air as the oxidiser was successfully tested.
With this, India became only the fourth nation in the world to successfully flight-test a scramjet engine after United States, Russia and European Space Agency (ESA).
What is scramjet engine?
The scramjet engine works on the Air-breathing Propulsion System. The system uses natural oxygen present in the atmosphere to burn the fuel stored in the rocket. It reduces the amount of oxidiser to be carried along with the fuel, bringing down launch costs.
Benefits
This system would help in reducing the lift-off mass of the vehicle as there will be no need of carrying liquefied oxygen on board the vehicle.
In turn help in increasing the energy efficiency of the rocket and also make it cost-effective.
Scramjet does not have rotating parts so the chances of failure are also measurably reduced.
Currently, ISRO uses rocket launch vehicles like the PSLV to deliver satellites into orbit. But PSLVs are expendable i.e. it can only be used once.
Way forward
The new propulsion system would complement ISRO's aim to develop a reusable launch vehicle that would have longer flight duration. This system involving the recently tested scramjet engine, would become crucial while sending up the spacecraft.
Special Note
This was not India's first venture into scramjet technology. DRDO is working with Russia's NPO Mashinostroyenia to develop the second generation Brahmos cruise missile (dubbed the Brahmos-II) powered by a scramjet . Brahmos-II is being designed to fly 300 odd kilometres at a speed of Mach 7. The current generation Brahmos is propelled using a liquid-fuelled ramjet engine. It makes it possible for the missile propel forward at up to Mach 3 speed, making it one of the fastest for a cruise missile in the world.
Month: Current Affairs - August, 2016
Topics: ATV • ISRO • National • Science and Technology • Scramjet Engine • Space technology
Latest E-Books