Ireland votes to ease restrictions on Divorce Law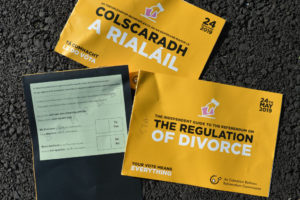 People in the Republic of Ireland have voted by an overwhelming majority to ease the constitutional restriction on country's divorce law.
Key Highlights
Background: A 1995 referendum granted Irish couples the right to divorce by a slim majority of 50.3% and since then the mandated separation period was a hangover condition. In 2018 Ireland again held a referendum in which 66% voters cast votes in favour of repealing country's constitutional ban on abortion.
Recent development: Now in 2019 around 82 % of Ireland voters casted their ballot in favour of removing a provision that requires couples to live separately for four out of previous five years before their marriage is dissolved.
Need: At present, Irish divorce law is regarded as among the most restrictive in Europe. It is considered to be responsible for Ireland having lowest separation rate of any European Union (EU) member state which is also evident by figures released by country's Central Statistics Office for year 2015. The rate of low separation because of strict divorce law rate places an unfair emotional and financial burden on couples as well as families at a time when Irish rental and property prices are spiking.
Significance: The step is latest in a series of reforms taken up by Republic of Ireland to modernise the charter of the once-devoutly Catholic nation.
Way Forward: The Irish government now will bring a new legislation shortening requirement to two out of the prior three years for couples to live separately before dissolving their marriage.
Month: Current Affairs - May, 2019
Topics: Central Statistics Office • Constitutional Restriction • European Union (EU) • Irish Referrendum • Referendum on Abortion Law • Republic of Ireland
Latest E-Books