International Buddhist Conclave 2018 held in New Delhi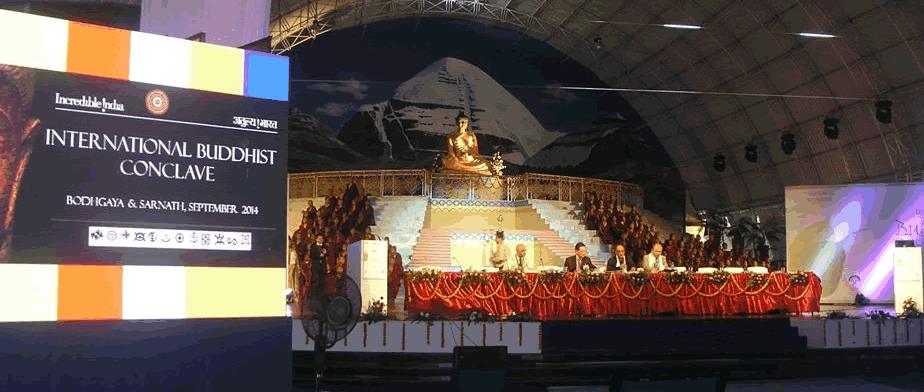 The International Buddhist Conclave (IBC), 2018 was held in New Delhi. It was inaugurated by President Ram Nath Kovind. It was sixth edition of International Buddhist Conclave. Its theme was 'Buddha Path – The Living Heritage".
Key Facts
The Conclave was organized by Ministry of Tourism in collaboration with State Governments of Maharashtra, Bihar and Uttar Pradesh. Japan is 'Partner Country for IBC-2018. It was held from 23rd to 26th August, 2018 at New Delhi and Ajanta (Maharashtra), followed by site visits to Rajgir, Nalanda and Bodhgaya (Bihar) and Sarnath (Uttar Pradesh). It saw participation delegates from following 29 countries including ministerial level delegation from Bangladesh, Indonesia, Myanmar and Sri Lanka. This edition of conclave had religious and spiritual dimension, academic theme and diplomatic and business component.
Background
Union Ministry of Tourism has been organizing International Buddhist Conclave biennially.  The earlier Conclaves were organized in New Delhi and Bodhgaya (February 2004), Nalanda and Bodhgaya (February 2010), Varanasi and Bodhgaya (September 2012), Bodhgaya and Varanasi (September 2014) and in Sarnath/Varanasi and Bodhgaya (October 2016). ASEAN countries were guest of honour during IBC, 2016.
Objectives of this conclave are
Showcase and project Buddhist Heritage in India.
Boost tourism to Buddhist sites in the country.
Cultivate friendly ties with countries and communities interested in Buddhism.
Buddha Path: It refers to eight great places of Buddhist Heritage (referred in Pali as Aṭṭhamahāṭhānāni). These places are connected with important events of life of Buddha from the time of his birth, enlightenment, reaching dhamma to suffering humanity, till he passed away (Mahāparinirvāna) at the age of 80 years. These are living heritage that still continues to inspire millions of people to walk and find out peace, happiness, harmony and solace.
Category: Art & Culture Current Affairs
Topics: Art and Culture • Buddha Path – The Living Heritage • Buddhism • International Buddhist Conclave 2018 • National • New Delhi
Latest E-Books