Integrated Financial Advisors Workshop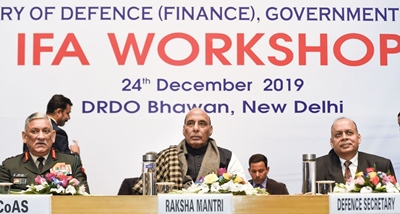 The Integrated Financial Advisors workshop was organized in New Delhi on Tuesday, December 24, 2019. An integrated financial advisor works as a representative of the Ministry of Finance with other ministries of the Central Government and all armed forces branches of India by assisting in matters related to financial issues. The role of an Integrated Financial Advisor is equivalent to that of the Chief Financial Officer in the Corporate Sectors. In 1974, the post was first introduced as an experimental basis in the Ministry of Shipping and Transport, later in 1975 and 1976 it was extended for all Central Government Ministries.
The Defence Minister of India, Rajnath Singh addressed the workshop and stressed the important role that similar workshops play in the evaluation of various Government practices and policies. The workshop was attended by Dr. Ajay Kumar (Defence Secretary),  General Bipin Rawat (Chief of Army staff),  Sanjiv Mittal (Controller General of Defence Accounts) and other civil officers from Ministry of Defense, senior military personnel,  and officers from all armed forces branches.
The powers and functions of Integrated Financial Advisors are: assist the Secretary of the concerned Ministry, assist in preparing a presentation for the budget, provide post-budget vigilance of the financial system, helps in scrutiny of programs and projects, best practices in costing, benchmarking and estimations.
Topics: Bipin Rawat • Corporate Sectors • Defence Minister of India • Integrated Financial Advisor • Integrated Financial Advisors workshop • Ministry of Shipping • New Delhi • Rajnath Singh
Latest E-Books