Decommissioning of INS Rajput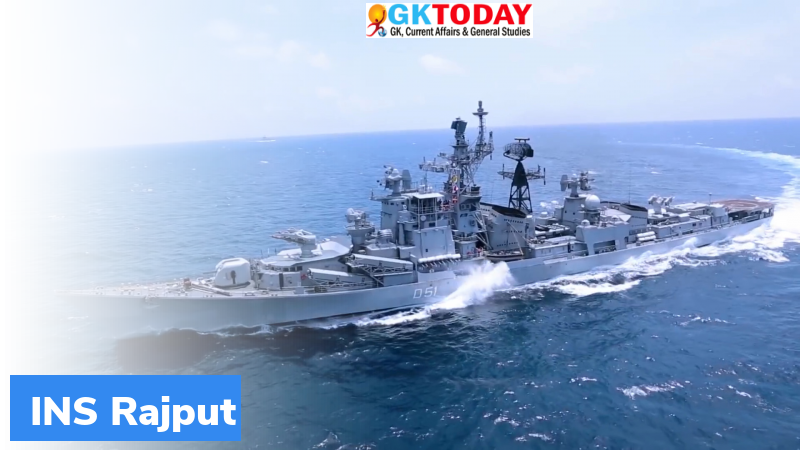 INS Rajput was the first destroyer as well as the lead ship of the Rajput class of the Indian Navy. Recently, on 21 May, 2021 INS Rajput has been decommissioned after 41 years of service by the Indian Navy.
Rajput class ships of the Indian Navy are guided missiles destroyers that were built by the former Soviet Union (USSR). Soviet Kashin class destroyers of the USSR were modified to meet the needs of the Indian Navy. Indian Navy commissioned 5 such ships in the 1980s and they are all attached to the Easter Naval Command of the Indian Navy.
Q2. When was INS Rajput commissioned?
INS Rajput was commissioned on 4th May, 1980 by the then Indian Ambassador to USSR, I K Gujral. Captain Gulab Mohanlal Hiranandani was appointed as the first commanding officer of INS Rajput.
Q3. What are some major operations that INS Rajput was part of?
INS Rajput took part in various operations during her period of service. Some of them are: Operation Aman to assist the Indian Peace Keeping Force during the Sri Lankan Civil War, Operation Cactus which was undertaken to resolve the Maldives hostage crisis situation, etc.
Q4.  What are some of the equipment's found equipped on INS Rajput?
INS Rajput was equipped with a variety of sensors and weapons. She was fitted with the BrahMos missile and Prithvi-III missile was also test fired from INS Rajput. INS Rajput is equipped to attack various land, anti-aircraft and anti-submarine targets.
Admiral Karambir Singh.
The headquarters of the Eastern Command of the Indian Navy is located in Visakhapatnam, Andhra Pradesh. On 21st May, 2021 INS Rajput was decommissioned in Naval Dockyard located in Visakhapatnam.
Category: Defence Current Affairs
Topics: astern Command of Indian Navy • Indian Navy • INS Rajput
Latest E-Books