Industrial Output slows down to five-month low of 0.4 per cent in August 2014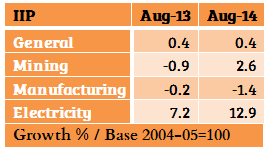 Industrial production growth has taken a hit from the contraction in manufacturing output and consumer goods sectors. The Index of Industrial Production (IIP) has shown a dismal rate of growth of 0.4%. IIP which is a measure of the short-term changes in the industrial activity in the country covers sectors like mining, manufacturing, electricity and a basket of 682 products depending on the contribution of the same to the total output of the country. The data though released on every month, is usually gauged every year. Industry comprises a major part of India's GDP; the indicator is a measure of the health of the industry. A robust industrial activity reflected in IIP makes a considerable impact on GDP and investor sentiment.
The new schemes introduced by the Modi government are focussed on making India an attractive investment and manufacturing destination to the world. The focus and ambition of the government is apparent but so are the woes of the crisis-laden power sector which has shown its first impact.
IIP for July also showed a downward revision with only 0.4% growth as compared to provisional estimates of 0.5 as per CSO. According to the IIP data, manufacturing — which constitutes over 75 per cent of the index — contracted by 1.4 per cent in August, compared to 0.2 per cent decline in output a year ago. Likewise, the consumer goods output contracted by 6.9 per cent in August against 0.9 per cent decline logged last year. Only half that is, 11 of the 22 industry groups in manufacturing showed positive growth in August.
The World Bank which pointed toward 'Modi Dividend', that is the orientation of the one new government towards growth and industry. The Bank also expected India to pick up private investment soon. However, the latter got caught between the struggling power sector due to which small scale industries have taken a big hit. These units are involved in making things from steel to textiles have not been able to combat the blow of stretched power outages. Coal deficit is another hurdle as the level of coal stocks is worst in last six years, which has forced power companies to import huge consignments and leading to congested ports.
Month: Current Affairs - October, 2014
Latest E-Books