India's highest bridge inaugurated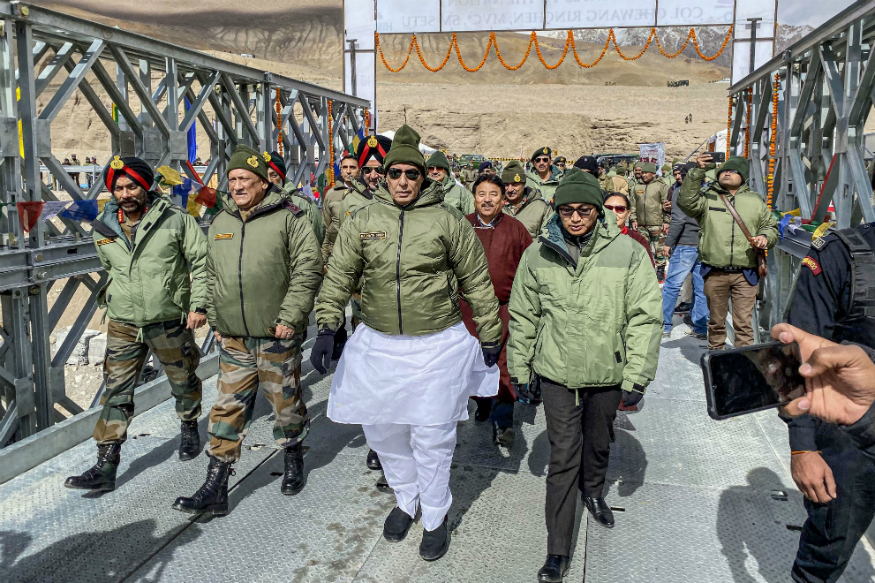 Raksha Mantri Rajnath Singh inaugurated the highest bridge in India. The bridge was named after the "Lion of Ladakh" Col Chewang Rinchen. It stands at 14,650 feet across the Shyok river.
Features of the bridge
It is located at 45km from India's border from China.
It connects Leh's Darbuk with Daulat Beg Oldi. The bridge is said to reduce the travel time by half-an-hour.
The bridge is an all-weather permanent bridge. Some bridges in the Ladakh, Siachen regions become inaccessible in winter.
It is located in the Sub-Sector North
The super structure of the bridge is called "Extra Wide Bailey Bridge".
The bridge has been built in a span of 15 months.
Micro piling technique has been used in the construction of the bridge. The technique is used in India for the first time.

Micro piling is a technique used to transfer the load to the ground. Micro piles are small diameter piles constructed by drilling process and are keyed into rock.

The bridge is 4.5-metre-wide and is designed to support 70 tons class vehicles. Thus, it is expected to facilitate the movement of Indian battle tanks like T-90 that weigh 48 tons and are 3.5 metre wide.
Colonel Chewang Rinchen
The Lion of Ladakh is a recipient of Maha Vir Chakra twice. In 1948, the Pakistan tribal raiders had captured Kargil and set their eyes in Leh. The region was defended by Lt Col Prithi Singh with just 33 men under him. When he raised the tricolor flag and sought for help, Rinchen was the first person to respond at the age of 17 years. He then recruited 28 of his friends forming the "Ladakh Scounts" and won eventually. For his bravery, he was awarded the Maha Vir Chakra in 1952
He was awarded with Maha Vir Chakra again in 1971 for his heroic act in freeing nine enemy points located in Ladakh's Partapur sector.
Shyok River
The River originates from Rimo Glacier, Karakoram Range and is called the "The River of Death"
It is a tributary of River Indus
It is also known as Sindhu
It is a transboundary river flowing through China (Tibet), India and Pakistan. Originating in China, the river joins the Indus river in PoK.
Chang Chen Mo River, Galwan River, Nubra River and Saltoro River are the tributaries of Shyok river.
The river holds several Quatenary period (2.58 million years ago) depositions that help Geologists to learn more about evolution of the earth.
Month: Current Affairs - October, 2019
Category: Defence Current Affairs
Topics: 1971 India-Pakistan war • Counter-terrorism • highest bridge • India China • India- Pakistan • India-Pakistan war • Ladakh • Shyok River • Siachen Glacier
Latest E-Books