India's 1st dedicated satellite for astronomy research Astrosat successfully launched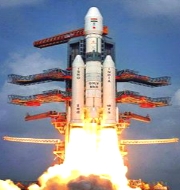 India's first dedicated satellite for astronomy research Astrosat has been successfully launched from Satish Dhawan Space Centre, Sriharikotta.
It was launched along with 6 foreign satellites by the ISRO's work horse Polar Satellite Launch Vehicle-C30 (PSLV-C30).
About Astrosat
Astrosat is India's first dedicated multi-wavelength space observatory and one of the major scientific mission of ISRO after the highly acclaimed Chandrayaan-I and Mangalyaan.
Functions: As a space observatory it has ability to observe celestial bodies like cosmic X-Ray sources and distant stars in different wavelengths simultaneously.
It will observe the universe through ultraviolet, optical, low and high energy X-ray components of the electromagnetic spectrum.
Payloads: Astrosat space observatory has been mounted with sophisticated scientific payloads having six key instruments with total mass of 750 kg.
It includes telescopes, sky monitors, mirrors and special imager.
Six key instruments are: UltraViolet Imaging Telescope (UVIT), Soft X-ray imaging Telescope (SXT), LAXPC Instrument, Cadmium Zinc Telluride Imager (CZTI), Scanning Sky Monitor (SSM) and Charged Particle Monitor (CPM).
These instruments have been jointly developed by ISRO, Tata Institute of Fundamental Research (TIFR) and Inter University Centre for Astronomy and Astrophysics (IUCAA).
Orbit: Astrosat will be placed at low earth equatorial orbit at altitude of 650 km.
Ground Command and Control Centre: It will be located at ISRO Satellite Centre (ISAC), Bangalore, Karnataka.
Mission life: It has science research mission life of five years and will operate as a space observatory.
With the successful launch of this space observatory, India became member of select group of nations after the US, Japan, Russia and Europe having its own space observatory.
Significance of PSLV-C30 Launch
For the first time, PSLV-C30 took flight mission in extended configuration as it was carrying total payload weight of 1631 kg.
The first and third stages of PSLV-C30 launch were powered by solid fuel while the second and fourth stages are powered by liquid fuel.
This successful mission also marks the first ever commercial launch of United States (US) satellites from India.
Other 6 Satellites: 4 identical LEMUR nano-satellites of Spire Global Inc of US, micro-satellite LAPAN-A2 of Indonesia and nano-satellite NLS-14 (Ev9) of the University of Toronto, Canada.
It should be noted that this is third time an Indian rocket has launched seven satellites in a single mission. In 2008, ISRO had launched 10 satellites using PSLV in one go including India's Cartosate-2A satellite.
Month: Current Affairs - September, 2015
Topics: Astrosat • Current Affairs 2016 • ISRO • PSLV • Science and Technology • Space technology
Latest E-Books