Indian Railways to acquire EoTT Equipments to run Trains without Guards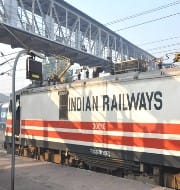 The Indian Railways has planned to acquire the End of Train Telemetry (EoTT) equipments to run nearly 1,000 trains without guards in the current fiscal. The EoTT system is designed in such a way that it will perform the guard's job. EoTT system comprises two units, namely, 'cab display unit' (CDU) which is fitted on the locomotive and 'sense and brake unit' (SBU) which is fitted on the last coach of the train. The units will be fitted with radio transmitter which can communicate with each other.  The transmitter will send signals at regular intervals to the last coach to ensure that the train is running intact. The Indian Railways will initially acquire 1,000 EoTT equipments for its container operations and later on more units will be procured to be fitted on all trains. Accordingly, all goods trains on the proposed dedicated freight corridors will run with EoTT system. Each set of EoTT device will cost approximately Rs 10 lakh.
Significance
The EoTT system will help in establishing communication between the locomotive driver and the last wagon of the train and ensure that the train is running as a complete unit.  In case of parting of coaches from the rear side of the train, it will give indication to the loco driver so that the driver can apply brakes to the rear unit thereby averting collision of the rear portion with the front portion of the train.  The transmitter at the last coach is connected to the brakes and the brake gets applied so that the broken away portion of wagons do not collide with the front portion.
Month: Current Affairs - May, 2017
Topics: Indian Railways • National
Latest E-Books