India to Ban E-Cigarette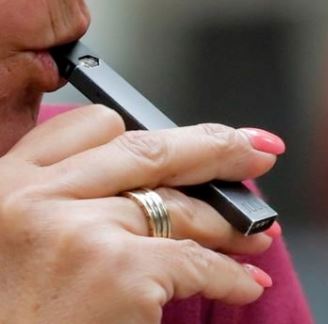 The Union Cabinet headed by Prime Minister Narendra Modi has approved the proposal to ban the production, import and sale of e-cigarettes and similar products. An ordinance to that effect would be passed by the Union Government soon.
Banning of E-Cigarette
E-Cigarette also called as ENDS (Electronic nicotine delivery systems) has been banned citing health risk to people, especially youth.
The decision of the cabinet was based on the recommendation of Group of Ministers (GoM) headed by the Minister of Finance Nirmala Sitharaman.
As per the proposed ordinance, the first-time violators will face a jail term of up to one year and a fine of Rs one lakh.
For subsequent offences, a jail term of up to three years or a fine of Rs 5 lakh, or both have been prescribed.
Storage of electronic-cigarettes would also be punishable offence with imprisonment up to 6 months or fine up to Rs 50,000 or both.
Those holding existing stocks of e-cigarettes on the date of commencement of the ordinance will have to declare and deposit the stocks with the nearest police station.
The decision to ban E-cigarettes has been opposed by the e-cigarettes promoting trade bodies, users and other stakeholders. They have criticized to ban as a draconian step taken in haste to protect the conventional cigarette industry. They have also alleged that the government's decision has deprived 1 crore smokers in India of safer options.
Topics: Carcinogens • Cigarette • Electronic cigarette • Electronic cigarettes • Marketing of electronic cigarettes • Regulation of electronic cigarettes • Smoking cessation • Tobacco
Latest E-Books