India test-fires ICBM Agni-5 successfully
India performed a successful test-fire of its indigenously developed nuclear capable "Agni-V" ballistic missile from a test range off Odisha coast. The missile was test-fired from a mobile launcher from the launch complex-4 of the Integrated Test Range (ITR) in Wheeler Island near Odisha coast.
What is the significance of this launch of Agni-V?
Agni V is considered to be of the category of Inter-Continental Ballistic Missile (ICBM).
The long range missile with a strike range of over 5,000 km is capable of reaching deep into China and Europe.
Only the U.N. Security Council permanent members – China, France, Russia the United States and Britain – along with Israel, are believed to have the  capability to operate an ICBM at present.
The Indian-made Agni V is the crowning achievement of a now-mothballed missile programme developed primarily with a possible threat from neighbouring China in mind.
Some features of Agni V: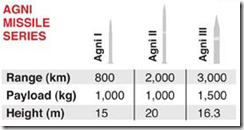 Strike range of over 5,000 km.
The surface-to-surface missile.
Height: 17.5 m
Diameter: 2 m
3-stage solid propellant missile.
Warhead: Can carry a nuclear warhead
Payload: 1500 Kg
Speed: 24 Mach
Manufacturer    Defence Research and Development Organization (DRDO), Bharat Dynamics Limited (BDL)
The Agni V is the most advanced version of the indigenously built Agni, or Fire, series, part of a programme that started in the 1960s. Earlier versions could reach old rival Pakistan and Western China.
Did this launch encounter criticism from other nations?
NO Criticism from West BUT from China noted the launch with disapproval.
The launch attracted none of the criticism from the West as faced by hermit state North Korea for a failed bid to send up a similar rocket last week. BUT China noted the launch with disapproval.
China's Global Times newspaper published: "The West chooses to overlook India's disregard of nuclear and missile control treaties".
Chinese Communist Party's main mouthpiece the People's Daily published: "India should not overestimate its strength"
Month: Current Affairs - April, 2012
Topics: Abdul Kalam Island • Agni • Agni-III • Ballistic missile • Bharat Dynamics Limited • Defence Research and Development Organisation • Guided missiles • Guided missiles of India • Intercontinental ballistic missile • Intercontinental ballistic missiles • Missiles • Weapons
Latest E-Books