India ranks 3rd in WADA doping charts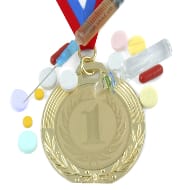 India was ranked third for the third year in a row in a doping violation report published by the World Anti-Doping Agency (WADA) for 2015.
In 2015, 117 Indian athletes were punished after testing positive for banned substances. India followed the Russian Federation (176) and Italy (129), the same position as in the reports of 2013 and 2014.
Background
The chart was prepared by WADA after compiling information of analytical findings and sanctions rendered till January 31, 2017 by various accredited anti-doping bodies. It was the first set of Anti-Doping Rule Violation statistics under the revised WADA Code and third such report in its history since 2013. 
Key Facts
ADRV is a doping offence committed by an athlete or athlete support person, resulting in certain consequences or sanctions. It is derived from adverse analytical findings (AAFs) (known as 'positive' results).
A total of 229,412 samples were received and analysed in 2015 by WADA-accredited laboratories worldwide.
Out of these, 2,522 samples were reported as AAFs. The dope offenders belong to 80 sports and 121 nationalities.
There were a total of 1,929 ADRVs (1,901 from athletes and 28 from athlete support personnel) out of which 1,649 are analytical findings and 280 from 'evidence based intelligence' non analytical findings.
Out of 1649 are Analytical ADRVs, 1304 cases (79%) were of male and 345 female (21%); 390 (24%) were from out of competition tests and 1259 in competition (76%); 1644 urine and five blood.
Among sports disciplines worldwide, bodybuilding has overtaken athletics in contributing the highest number of dope cheats with 270 such cases.
Athletics is second at 242, followed by weightlifting (239), cycling (200), powerlifting (110), football (108), rugby union (80), boxing (66), wrestling (57) and basketball (39).
India related facts: The number of dope offenders from India has been increasing in the last three years. India had 91 and 96 Anti-doping Rule Violations (ADRVs) in 2013 and 2014 respectively.
Of the 117 Indian offenders of 2015, two were non-analytical ADRVs case. Out of the remaining 115 analytical ADRVs, 78 are committed by male athletes and 37 were female.
Among individual sports, weightlifting has reported highest positive doping tests with a whopping 56 Indian lifters (32 male and 24 female) punished for doping.
Athletics contributed second highest number of dope offenders with 21 (14 male and 7 female), followed by boxing (8), wrestling (8), cycling (4), kabaddi (4), aquatics (3), powerlifting (3), Judo (2), wushu (2), rowing, hockey (1), football (1) , bodybuilding (1) and street and ball hockey (1).
About World Anti-Doping Agency
WADA is global Non-Governmental Organisation (NGO) that aims at harmonizing anti-doping regulations in all sports and countries. It is collective initiative led by the International Olympic Committee.
It was established in 1999 in Lausanne Switzerland under so called Declaration of Lausanne to coordinate, promote and monitor the fight against drugs in sports. Its headquarters is in Montreal, Canada.
Month: Current Affairs - April, 2017
Category: Reports & Indexes Current Affairs
Topics: Doping • India • Insights • Italy • National • Russia • Sports • Wada
Latest E-Books