India Micro, Small, and Medium Enterprises Report 2018: Key Facts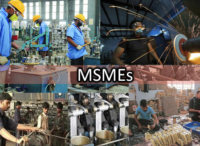 The India Micro, Small, and Medium Enterprises Report 2018 has been released Kochi based Institute of Small Enterprises and Development at the  South India MSME Summit 2019 in  Bengaluru.
Findings of the Report
The important findings of the report include:
MSMEs need radical reforms to solve its pressing problems and to utilize its potential.
Several studies on India's MSMEs have brought out emerging challenges of the sector especially against the phenomenon of jobless growth. The government must act on the findings of these studies.
There is a need to address the issues relating to finance and taxation which the MSME associations have brought before the government. The report notes that RBI has set up a committee to identify causes and propose long term solutions.
The new definition of MSMEs brought about by union government is considered as an inroad into their constituency by large players.
The mainstream debates on MSME problems are confined to the limited areas of technology, finance, and start-up support etc. The impact of more crucial external influences such as policy failures demonetization and GST implementation has remained unanswered. As a result, piece-meal solutions to MSME problems may not be effective.
The report quotes RBI study which noted the share of credit extended to MSMEs in overall bank credit, declined steadily to around 14 per cent from about 17 per cent and within credit to the industrial sector and the share of medium enterprises has dropped significantly as compared to micro and small enterprises.
Recommendations of the Report
The report recommends an entitlement approach that can have the potential of compelling all related stakeholders to work on a common national agenda and solutions under a scientifically structured framework. This approach demands the identification and analysis of major security threats to the MSMEs, and entrepreneurship at the grass root level.
Month: Current Affairs - January, 2019
Topics: Demonetisation • GST • India Micro Small Medium Enterprises Report 2018 • Institute of Small Enterprises and Development • MSME • RBI • South India MSME Summit 2019
Latest E-Books