India-Israel co-developed LRSAM missile successfully tested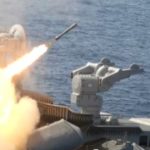 Long Range Surface-to-Air Missile (LRSAM) co-developed by India and Israel was successfully test-fired for the first time from an Israeli Naval Platform.
Test: The trial test was undertaken by Israel Aerospace Industries (IAI) in the presence of Defence Research Development Organisation (DRDO) scientists. During the test the missile achieved the desired goal by hitting the incoming target.
About Long Range Surface-to-Air Missile (LRSAM)
LRSAM is also called Barak 8 missile in Israel which in Hebrew language means Lightning.
Barak 8 is an advanced, long-range missile defence and air defence system. Its main features are long range, active radar seeker missile, vertical launch and multiple simultaneous engagements.
For the LRSAM, DRDO has developed dual pulse propulsion system along with other safety arm mechanisms for Solid Propulsion system.
The LRSAM programme consists of Missiles, Weapon Control System, MFSTAR (Radar), Vertical Launcher unit and two- way data link.
It is capable to counter a wide variety of air-borne threats such as anti-ship missiles, aircraft, UAVs and drones as well as supersonic cruise missiles.
Comment
The successful test marks a milestone in bilateral cooperation of the two countries in developing advanced weapon systems. It is also considered as the major milestone in proving the missile system is compatible with the Ship Borne Tracking Equipments (SBTE).
Month: Current Affairs - November, 2015
Topics: Defence • DRDO • India-Israel • missile technology
Latest E-Books