India improves in HDI ranking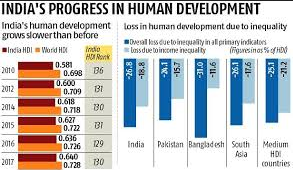 The rank of India among 189 countries in the Human Development Index has improved for the year 2019. Last year, India ranked at number 130th. About 30 years of rapid development was the reason behind the improvement. According to experts:
About 27.1 crore people had been relieved from poverty in a decade (from 2005-06 to 2015-16).
Significant reduction in absolute poverty (severe deprivation of basic needs due to poor access to income and services).
Improvement in life expectancy
Improvement in education and healthcare services.
No other region has experienced such significant improvement in human development. Among the different regions, South Asia recorded the highest growth at 46% since 1990. The next highest growth was from the East Asian and the Pacific region with 43% during the same period.
Human Development Index is a statistical tool that is published by the United Nation Development Program.
Topics: Academic disciplines • Aid • Demography • Environmental social science • Extreme poverty • Life expectancy • Poverty
Latest E-Books