India imposes countervailing duty on some Chinese steel products for 5 years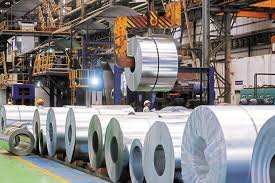 The Union Finance Ministry has imposed 18.95% countervailing duty (CVD) on certain Chinese flat steel products for period of five years to protect domestic players from cheap subsidised imports.
The decision to impose CVD was taken by finance ministry based on the recommendation of Directorate General of Anti-Dumping and Allied Duties (DGAD).This is  first case of imposition of CVD on any steel product in India
Background
The Commerce Ministry's investigation arm, DGAD in its probe had concluded that despite sufficient demand in India and capacities, domestic industry has lost sales opportunities, due to direct consequence of subsidised imports from China.
Key Facts
The move assumes significance as steel sector in India is facing challenges due to cheap steel imports. The imposition of CVD will help domestic players to grow to full potential after attaining second rank in stainless steel production in world in 2016 and provide level-playing field to domestic industry. It will strengthen the ongoing efforts of Indian industry to move towards 100% quality regime for better safety and health of users.
Countervailing duty
It is imposed to safeguard domestic industry against unfair trade subsidies provided by local governments of exporting nations. It is basically country specific. It is generally equal to excise duty paid by manufacturers when same product is produced in home country. It is mainly levied to neutralize effect of subsidies in exporting country on price and domestic market of importing country.
Month: Current Affairs - September, 2017
Latest E-Books